David Price to face Sam Sexton for heavyweight titles vacated by Fury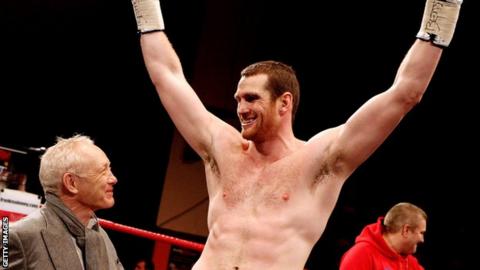 Heavyweight David Price will fight Sam Sexton for the British and Commonwealth titles vacated by Tyson Fury.
Olympic bronze-medallist Price, 28, has a perfect 12-win record (10 KOs) and will be favourite against former Commonwealth champion Sexton.
Price said: "I'm disappointed he didn't step up to the plate because it was the fight the public wanted to see."
The boxing authorities have called for the fight to take place by the end of June.
Price, who beat Fury as an amateur in the senior national championships in 2006, said beating Sexton would be more of a challenge.
"I was talking to my trainer and I think Sam Sexton is going to prove more difficult to beat than Fury because he moves his feet better and has quicker hands.
"Tyson Fury's been struggling and if you are talking about moving up in class then he's going to get found out. Had I fought Fury it would have been an early night's work for me because he leaves himself wide open."
Frank Maloney, Price's promoter, said: "I believe he'll win; he's the most exciting British fighter since Lennox Lewis."
Fury's promoter Mick Hennessy said Price turned down £100,000 for the contest and that his man would now be pursuing fights that would lead to a world title shot.
Hennessy said: "We have a great schedule in place for Tyson on Channel 5 and I'm not prepared to have that affected by other promoters, purse bids and titles."
Maloney, though, said Price would earn more money by not accepting the offer and letting the fight go to the promoter who submitted the highest 'closed purse' bid to the British Boxing Board of Control (BBBofC).
Fury's camp relinquished the titles 45 minutes before the BBBofC's deadline for bids on Wednesday, meaning Sexton was next in line to fight Price.
Maloney added: "Fury has let himself, his fans, his travelling community and most of all the boxing world down.
"This is why people are turning against the sport I love and again politics have ruled what a boxer does."
The BBBofC and the Commonwealth Board of Control (CBC) have called for the fight to take place by the end of June.
BBBofC secretary Robert Smith said: "I am extremely disappointed because I believe championships should be won and lost in the ring.
"However, we have got a fight happening between two young British heavyweights that the sport wanted to see."
Simon Block, the CBC honorary secretary, said: "Sam Sexton is a named challenger on the list of contenders issued by the CBC on 8 December and this match, subject to compliance with CBC regulations, will also be recognised as being for our title."
Sexton, 27, stands at 6ft 2ins tall and has a 15-2 record (six KOs). He beat Martin Rogan for the Commonwealth strap but his two loses have come against Derek Chisora, who is fighting Vitali Klitschko for the WBC heavyweight title.