Frankie Gavin fighting fit after crisis in confidence
Last updated on .From the section Boxing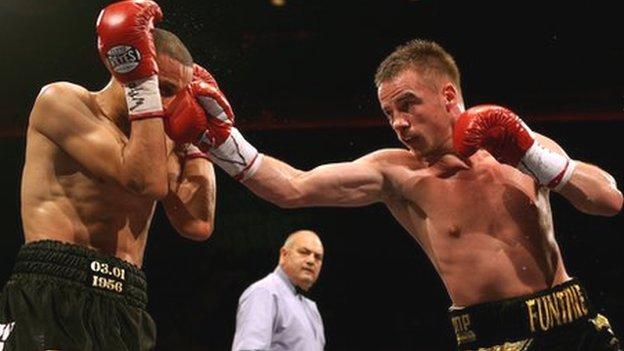 Birmingham welterweight Frankie Gavin says he is "buzzing" again as a fighter after recent personal problems made him question his desire to carry on boxing.
Gavin, 26, has returned to live in Birmingham after finding life tough in Manchester and London.
"Manchester was getting harder and harder, but when I moved to London it felt like me against the world, I was getting depressed," Gavin told BBC WM.
"I didn't feel like I had it anymore but now I'm buzzing, I'm back on it."
After two lacklustre performances, Gavin's difficulties outside the ring culminated in him pulling out of his last fight against Frank Horta in October just hours before the bout - a move that angered his promoter Frank Warren.
"I just felt like I didn't want to be there," Gavin admitted. "I was doubled-up and I knew it wasn't the right decision.
"I was dealing with all that on my own and bringing my problems into the gym. I doubted what I wanted and was getting bored, but I didn't know what was to blame.
"I was losing confidence in my boxing and I just wasn't enjoying it at all."
In a bid to get himself back on track, Gavin has teamed up again with his former amateur trainer Tom Chaney, the man who guided him to the world amateur title in 2007.
"It feels great, I was always a boxer but it made me (working) with Tom and the improvement over the last six weeks has been magnificent," Gavin said.
The pair last worked together in 2009, just before Gavin turned professional, and he says a lot has changed in that time.
"The three years away, I think we've both learnt a hell of a lot. It's shocked me how much he (Chaney) has learnt," added Gavin.
"It's great being back in the gym and I'm learning again."
Unbeaten Gavin is set to return to the ring on 25 February in Cardiff.