GB boxer Iain Weaver ready to take latest chance in pursuit of Olympic qualification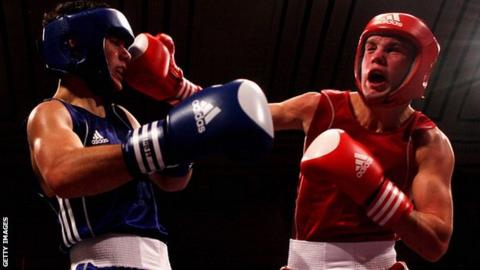 Ferndown lightweight Iain Weaver heads to Bulgaria this week knowing time is running out on his Olympic dream.
Weaver competes in the Strandja Cup in Sofia on 21-26 February knowing he needs a good performance to make the GB team for April's Olympic qualifier.
That will be the GB boxer's last chance to qualify for the 2012 Olympics.
"It's a very big tournament for me and an opportunity to prove I deserve a spot at the next Olympic qualifier, " Weaver told BBC Radio Solent.
Weaver's main rival for the lightweight place is Martin Ward who last week competed in the Bocskai Memorial Tournament in Debrecen, Hungary but was beaten in the quarter-finals.
Weaver, 22, will be joined in Bulgaria by Andrew Selby and Luke Campbell who have both qualified for the London Games.
As well as Weaver, flyweight Selby and bantamweight Campbell, lightweight Joe Cordina and heavyweight Simon Vallily will also be in action and make up the rest of the GB team.
For the GB boxers the tournaments in Hungary and Bulgaria are a chance to earn a place in the squad for April's final Olympic qualifying event in Trabzon, Turkey.
"If I go to this tournament and reach the final or even win gold then I will be in the pole position for Turkey, but the semi-final at the very least is my target," added Weaver.
Despite the rivalry for a place at the Olympics, Weaver says the spirit in the GB squad is excellent.
"We all get on very well, there is a rivalry between us all but it is a friendly rivalry and we push each other along," said Weaver.
"There has always been two people for each weight in the GB squad which is good, as we are both training hard for the same target."
The GB squad has already had five boxers qualify for London 2012 with Tom Stalker, Fred Evans and Anthony Joshua joining Selby and Campbell.
And Weaver, who won silver at the 2010 European Championships, says the squad are confident of adding to that amount in Turkey.
"The spirit in the GB squad is great at the minute, we had five qualify at the first Olympic qualifying event so hopefully at the next one in Turkey we can get even more," said Weaver.
"I'm thinking about the next qualifier and all I can do is train hard and do the best I can at this tournament and hopefully I can make it to Turkey. After that I can start thinking about Olympic qualification."