Dereck Chisora 'better than David Haye' - Vitali Klitschko
Last updated on .From the section Boxing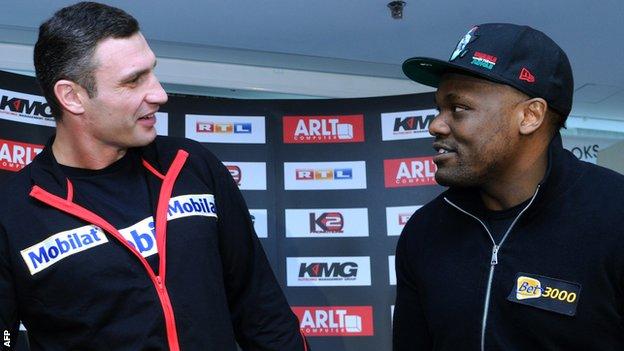 Vitali Klitschko expects a tougher fight against Dereck Chisora this weekend than the one David Haye put up against his brother Wladimir.
British challenger Chisora meets Vitali for his WBC heavyweight title in Munich.
The contest follows Wladimir's dominant victory against Haye last July.
"David Haye didn't want to fight," the Ukrainian said. "I expect a better fight from Dereck Chisora, he's actually a fighter."
It will be Zimbabwe-born Chisora's 18th bout of his professional career. Vitali is the red-hot favourite and he used an attempt to talk up Saturday's contest to continue the Klitschkos's long-running feud with Haye.
Vitali said: "He [Chisora] wants to go in and fight and to go the distance. He tries to challenge his opponent and I didn't see that in the last fight between David Haye and Wladimir Klitschko.
"Dereck Chisora is more aggressive than David Haye."
Despite Haye announcing his immediate retirement in October, the Londoner is rumoured to be prepared to enter the ring again to face Vitali.
Vitali said: "David Haye is so unpredictable and we tried to make a deal. I hope the fight comes through but right now we are miles apart from agreeing the contract.
"I don't want to talk about it now. I am focused totally on the Chisora fight and I hope that, after Dereck Chisora, David Haye changes his mind [about retiring] and I can give him a chance to fight for a world title."
Former heavyweight world champion Lennox Lewis, 46, who retired in 2004 and was at one stage the undisputed world champion, said he could not understand why Chisora has been given such an opportunity.
Lewis wrote on Twitter: "Chisora-Klitschko is for all intensive purposes a mismatch. In my era, you couldn't have a WORLD title fight 17 fights and two in your career. #TooGreen.
"At this stage it seems Chisora should be fighting for a European belt in my opinion, he's still a bit too green for the Klitschkos.
"But this is the state of the heavyweight division where fights like this can actually take place. The young talent needs time and experience first.
"The young upcoming talent should be left to sort it out among themselves and gain real experience before a shot at the Klitschkos."