Nathan Cleverly spearheads Welsh boxing's golden glow
By Peter Shuttleworth
BBC Sport Wales
Last updated on .From the section Boxing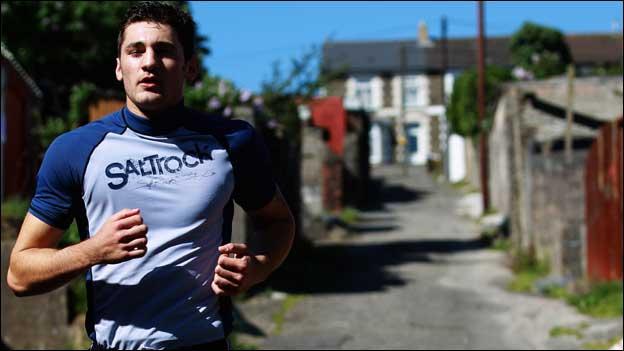 It may be a dark time for British boxing but there is a golden glow surrounding Wales' prizefighting dragons.
If the great in Britain's boxing reputation had not already been systematically removed by the dethroning of , and , then came the press conference brawl between two wounded losers.
Dereck Chisora had just been in Munich but what made national headlines was his bust-up with retired former heavyweight Haye.
British boxing's fragile dignity hit the floor quicker than the two brawling bruisers ever could.
Yet across the Severn Bridge, there's a quiet renaissance in the ring, spearheaded by one of Great Britain's two world champions.
Nathan Cleverly was learning the ropes during Welsh boxing's glory days of the late 2000s when he shared the famous Calzaghe gym with three world champions.
Joe Calzaghe has since retired, while Enzo Maccarinelli and Gavin Rees have been overthrown, but the WBO light-heavyweight king is determined to fill any void and Cleverly is the face of today's new generation.
And Cleverly, still a relative youngster having just turned 25, has stepped up to take on the hopes of not just a country but a kingdom.
"It's great to think I've helped leave a tangible legacy," said Calzaghe, the undefeated former two-weight world champion and Cleverly mentor.
"British boxing has suffered some disappointing high-profile losses recently but Nathan is carrying on the good work in Welsh boxing.
"There was a bit of a lull in Welsh boxing but now it is on its way back."
"I used to spar with Nathan and he is a great protege. He is still young and will improve with more experience in world title fights.
"I'd like to think I helped inspire this new generation. To have a champion reign for decades is great for a small country like Wales."
Unbeaten Cleverly's third defence against American Tommy Karpency in Cardiff on Saturday is the feature fight on a bill full of young Welsh talent, including Lewis Rees and Luke Robinson, son of former WBO featherweight champion Steve Robinson.
As a small nation of three million Wales is, as former world welterweight challenger Colin Jones so eloquently phrases it, "punching above its weight."
Rees is now while and are British title-holders.
Wales also boasts a strong amateur scene, expertly supervised by Jones, and their two European champions will ensure Wales' strongest ever boxing presence at the Olympics.
Wales, whose last Olympic boxer was David Griffiths at the 1984 Los Angeles Games, has never won an Olympic boxing medal and never before sent more than one fighter to an Olympics.
Yet flyweight and welterweight have already qualified for the 2012 London Games while Joe Cordina could well join them.
The Cardiff lightweight will be at the 2012 European Olympic qualifying event in Turkey in April hoping to secure an Olympic hat-trick.
And Jones insists Cleverly and Wales' Olympic hopefuls are just the tip.
"Welsh boxing has rarely looked so healthy in terms of strength in depth," said Jones, who fought at the 1976 Olympics in Montreal.
"There are in excess of 100 young boxers in the schoolboy, junior and youth ranks, which ensures the future looks good.
"We've needed three assessment camps, due to the amount of talented youngsters, to pick a dozen fighters for the Welsh elite squad.
"The reason for the volume of fighters is there is now a professional structure in Welsh boxing with myself as the coach and a performance director.
"Wales are minnows in boxing but we're certainly punching above our weight these days."
The Welsh took eight boxers to the 2010 Commonwealth Games in India but Jones is confident that, for the first time, Team Wales could fill all weight divisions at the 2014 Commonwealths in Glasgow.
Amateur stars Evans and Selby, the world amateur runner-up, have graduated to Great Britain's boxing podium squad and have benefited from full-time strength and conditioning coaching, nutrition advice, psychologists and in-house quality sparring partners.
"Evans and Selby are something special and have proved it on the biggest stage," said Jones.
"It is one thing to qualify for the Olympics but another to medal and these two have a great chance of not only medalling but winning gold."