Nathan Cleverly determined to put Welsh boxing back on the map
Last updated on .From the section Boxing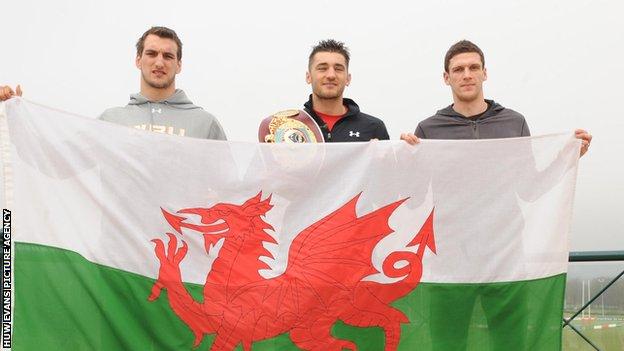 Nathan Cleverly wants to put Welsh boxing back on the map in the latest defence of his WBO light-heavyweight title against Tommy Karpency.
Cleverly is set for his first fight on home turf in almost four years.
And it will be the first world-title bout in Wales since Joe Calzaghe beat Mikkel Kessler in 2007.
"This is a very special occasion for me and for Welsh boxing... a chance to bring the glory days back to Welsh boxing," said 25-year-old Cleverly.
"I am really looking forward to the occasion. It is a great weekend of sport with Wales playing England in the Six Nations and Cardiff in the Carling Cup final.
"It's special for such a small country like Wales to stage world championship boxing. It's great for the nation, the fans and myself to be involved.
"For Welsh sport in general it is a massive weekend for us. We have got a major event in rugby, a major event in boxing and the football the next day."
Cleverly will be making the third defence of his WBO crown on Saturday at Cardiff's Motorpoint Arena.
He is Britain's only world champion following the recent defeats suffered by David Haye, Amir Khan and Carl Froch.
"For me to bring world championship boxing back to Wales is very important," he said. "I am thriving on that added pressure of being world champion and the expectation for the weekend.
"It is pretty much a sold-out arena, there has been a great response and it is a boost to know the fans are getting behind me.
"It's great to be involved in such a great weekend of sport and I am looking to put on a world champion performance."
Cleverly, who starts Saturday's contest as the overwhelming favourite against southpaw Karpency, is regularly compared to Calzaghe, with the pair having both been raised in the south Wales valleys.
Calzaghe ended his career undefeated in 46 fights, and Cleverly has already amassed 23 successes in his own unbeaten record.
While Cleverly is keen to be seen as his own man, he acknowledged that Calzaghe, who is expected to be at Saturday night's contest, was a major influence on him.
"Joe has always been a big inspiration," said Cleverly, whose last fight on Welsh soil was on the undercard of Calzaghe's win over Kessler in November 2007.
"He was world champion and when I started boxing he inspired me a lot, being a valley boy like myself and being brought up in similar surroundings.
"It just proved anything is possible and you can do great things.
"You may be from a small valley town in a small country but you can conquer the world. I believe that and Joe has done that, now it's my turn."