Belfast Olympic boxing hopeful McCarthy suffers assault
Last updated on .From the section Boxing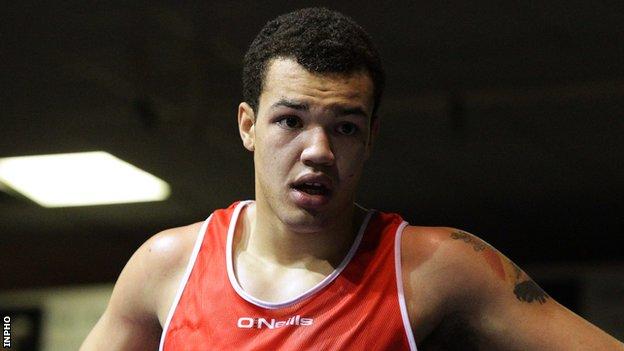 Belfast boxer Tommy McCarthy says he's still on target for the London Olympics despite being the victim of a serious assault in his native city.
McCarthy, 21, suffered concussion and a cracked bone in his neck after being assaulted during a night out.
"Me and a few of my friends were out in a nightclub and as we were leaving, somebody assaulted me," said McCarthy.
"I spent two nights in hospital and was under doctors orders to have a further seven days in bed after that."
Irish amateur heavyweight champion McCarthy says he has "no recollection" of the assault which happened just over two weeks ago although his friends witnessed the incident.
"The fellow, who was a big fellow as well, got me, out of the blue, up by the legs and down on to the concrete.
"It all came as a surprise because I wasn't fighting and we weren't involved in any arguments or bickering. It took me unawares.
"I suffered from concussion and cracked a bone in my neck and had a black eye and cuts down my face. It was pretty bad."
Ironically, McCarthy has never suffered concussion as a result of boxing nor been knocked down in the ring.
McCarthy was told that he would be unable to train for at least 28 days after the assault but remains confident that he can regain fitness for the final Olympic qualifying tournament in Turkey in April.
"I can't hit bags or pads and I can't do weights.
"All I have been doing is sitting on the bike a doing a tiny bit of shadow boxing.
"So far, it's only been for two and a half weeks but it's had a really bad effect on my training.
"But I'm sure in the next two weeks or so, I'll be able to get back and pick up where I left off.
"I'm in with a brilliant chance of qualifying (for the Olympics). It's all about getting out there and performing and doing my job."
McCarthy will have to be at his best because only one heavyweight spot for London will be up for grabs in Turkey.