Frank Warren wants Bernard Hopkins bout for Nathan Cleverly
Last updated on .From the section Boxing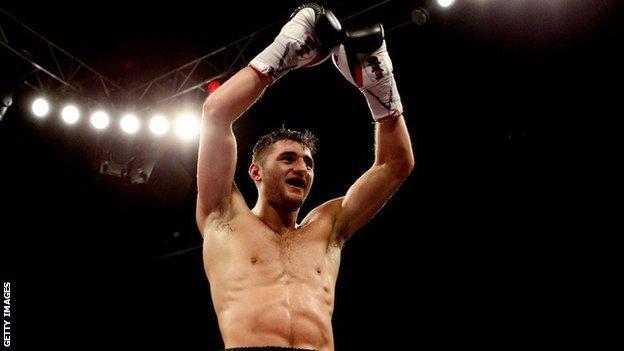 Promoter Frank Warren wants WBO light-heavyweight champion Nathan Cleverly to face veteran Bernard Hopkins at the Cardiff City Stadium in the summer.
Cleverly then wants a big summer show in Wales and admits talks have already begun with the Cardiff City Stadium.
"Nathan is coming on in leaps and bounds," said Warren.
Hopkins, 47, takes on Chad Dawson in Atlantic City, also on 28 April and Warren added: "All our attention will now of course turn to 28 April and the Bernard Hopkins v Chad Dawson fight.
"Then we will be making a big decision about a fight in the summer.
"In the meantime, I have the Royal Albert Hall booked for 28 April.
"I would not mind him being the guy to take boxing back there.
"There has been no professional boxing there for many, many years.
"It is probably the best venue in the country, the most prestigious venue and you could not get a better representative for British boxing than Nathan, to showcase taking professional boxing back there."
Professional boxing has not been staged at the Royal Albert Hall for 10 years and Sir Henry Cooper, Lennox Lewis and Frank Bruno all fought at the famous London venue.
Welshman Cleverly unanimously out-pointed Karpency at the Motorpoint Arena with his efforts earning the verdict from all three judges for each of the 12 rounds.
Dawson and Hopkins contest the WBC title in April and Cleverly wants to fight the winner in a unification bout and the Cardiff City fan admits negotiations have started with the Cardiff City Stadium about staging a possible showdown.
"It's time to bring on the big American names and it won't be long before we have some super fights," he said.
"Hopkins and Dawson are regarded as the number ones in the light-heavyweight division and if the opportunity to fight the winner of those two came along, I'd take it.
"Talks are actually underway with the Cardiff City Stadium as we're looking to stage a summer event so that would be great, it's a fantastic arena.
"Next up is Albert Hall in eight weeks as I want to keep busy, remain active and get another defence.
"I think I am ready to be unified champ.
"Hopkins and Dawson are the elite guys in the division. If you want to be the best those are guys you have to head for."
Warren matched Hopkins with Cleverly's fellow countryman Joe Calzaghe in Las Vegas in April 2008 and he hopes the 47-year-old American beats Dawson and takes on the 25-year-old.
"For me the best fight for Nathan would be Hopkins," said Warren.
"I have a feeling Dawson may upset the odds when they face each other, he will give him a lot of problems, but I would prefer Hopkins.
"He is a big name, he had a good fight with Joe Calzaghe and if we brought him over and did that show at Cardiff City Stadium or the Millennium Stadium, it would be a great atmosphere with maybe 50,000 people in there.
"Nathan needs big fights, he rises to them and he has great temperament."