Female boxers will not be forced to wear skirts at the Olympics
Last updated on .From the section Boxing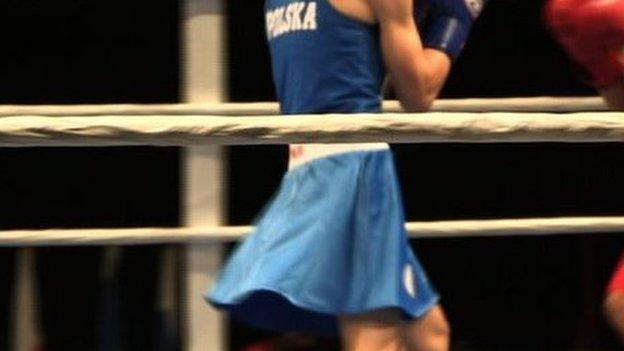 Female boxers will not be forced to wear skirts at the London Olympics, the world governing body has announced.
The Amateur International Boxing Association had previously suggested skirts to help distinguish the women from the men.
AIBA faced criticism from some boxers, with Irish world champion Katie Taylor calling the mini-skirts a "disgrace".
But, following a meeting of AIBA's executive committee, uniform rules have been amended to allow for a choice.
Rule 8.1.3 of technical and competition rules, relating to boxers' uniform, now states: "For all AIBA approved events, women boxers must wear... either shorts or the option of a skirt."
Prior to the clarification, the suggestion that mini-skirts in the ring were to be "phased in for international competitions" met with with resistance from Britain's female pugilists.
British lightweight champion Natasha Jonas said: "Personally, I think it's more for the aesthetics; nothing practical is going to come from wearing a skirt.
"The only people who would want to see women in skirts are men.
"It should be the boxer's choice whether they want to or not. You shouldn't be forced to wear one."
"It should be optional," agreed Britain's European flyweight champion Nicola Adams. "I don't think it's fair to say female boxers should be in a skirt.
"You don't see female footballers going around in a skirt.
"Boxing has always been in shorts. I don't see why it should change to skirts just because you're a female."
AIBA president Dr. Ching-Kuo Wu said: "We never asked women to wear skirts.
"Some women want to wear shorts and some others want to wear skirts, so the decision we have made is that we shall make it optional.
"This year's summer Olympic Games in London will be better because 36 women boxers will have the opportunity to compete for an Olympic medal in boxing for the first time in history."