Miguel Cotto a worthy opponent, says Floyd Mayweather
Last updated on .From the section Boxing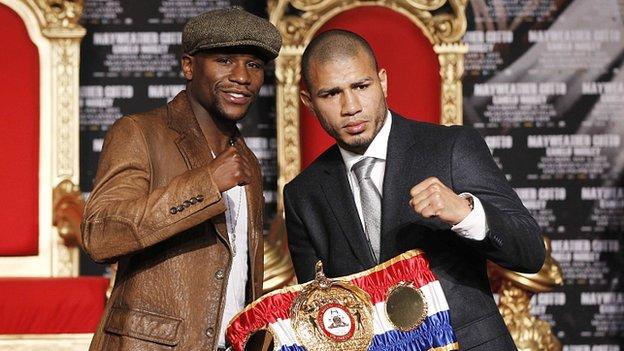 Floyd Mayweather promises a "toe-to-toe battle" when he meets Miguel Cotto for the Puerto Rican's WBA light-middleweight crown on 5 May.
While Mayweather versus Philippine great Manny Pacquiao is the fight most fans most want to see, Mayweather insists Cotto is a worthy opponent.
"To be the best, you've got to beat the best," said Mayweather, 35.
"I can solidify myself as one of the best fighters to ever live [against Cotto]."
Mayweather and Cotto, 31, came face to face at Hollywood's Chinese Theatre to promote their fight, which will take place at the MGM Grand in Las Vegas.
And, while many will hope Mayweather comes through unscathed so that a fight with Pacquiao will eventually take place, Cotto has other ideas.
Cotto said: "When I fought [former three-weight world champion] Shane Mosley in 2007, people said the same thing, that he is faster than me.
"But I beat him at his own game and I plan to pressure Mayweather."
Cotto has lost two of his 39 professional fights but Mayweather says he considers his rival undefeated because of the circumstances of those defeats.
In 2008, Antonio Margarito stopped Cotto, only for the Mexican's reputation to be tarnished when it was discovered he used illegal hand wraps against Mosley.
In 2009, Cotto was beaten by Pacquiao in a catch-weight contest, although the Puerto Rican claims he was weight-drained.
"My previous fight with Margarito, he took some things from me," said Cotto, who avenged that defeat last December.
"When I beat him, they came back to me. I feel better now."
Mayweather, who is undefeated in 42 fights, said he would soon reveal the truth behind his failed negotiations with Pacquiao.
The two men were in talks for a potential fight in May or June but Mayweather will instead fight Cotto and Pacquiao will take on American Timothy Bradley on 9 June.
"I offered Manny Pacquiao to fight for 5 May but he turned me down," Mayweather said.
"You hear different things. Soon I will put it out there and let the world see me talking to Manny Pacquiao and him turning me down."