Wladimir Klitschko defends Mormeck title fight
Last updated on .From the section Boxing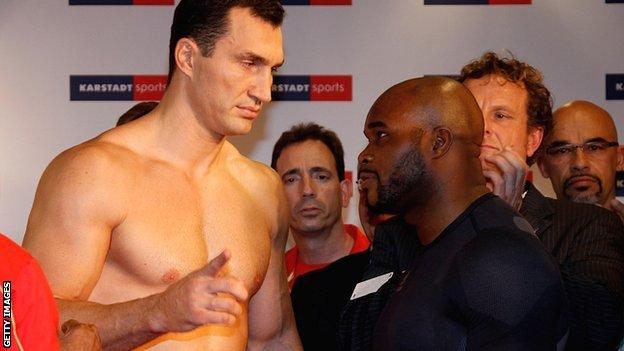 Wladimir Klitschko was forced to defend the quality of his opponents before Saturday's heavyweight world title defence against Jean-Marc Mormeck.
Klitschko will put his WBA, IBF and WBO belts on the line in Dusseldorf but few believe the 39-year-old challenger has any chance of an upset.
Former cruiserweight world champion Mormeck has only fought three times as a heavyweight since moving up in 2009.
"I'm expecting a tough challenge, at least at the start," said Klitschko.
"Maybe it looks simple and one-sided for you guys, but it's demanding a lot of work and concentration and you have to be right on the ball.
"If our fights were kind of sloppy and we were getting punched in the face, probably that would be exciting for the fans."
Mormeck could become Klitschko's 50th career knockout in his 60th bout, which takes place at the Esprit Arena.
The 35-year-old Ukrainian has not lost since 2004 but makes no apologies for his domination, and insists Mormeck can provide a test.
Although Mormeck gives up plenty in height, reach and weight to Klitschko, the champion admits speed will be on the Frenchman's side.
"It's so difficult to fight a smaller guy because usually they are faster," he said.
Meanwhile, Mormeck, who lost his cruiserweight world title to Britain's David Haye in 2007, said Klitschko is ready to be knocked out.
"Klitschko has something that I want and I need to smash his face in order to get it," said Mormeck.
"I know that he is not happy getting hit. I've already said it and mean it - he has a glass jaw."