Ricky Burns expects tough first defence of lightweight title
Last updated on .From the section Boxing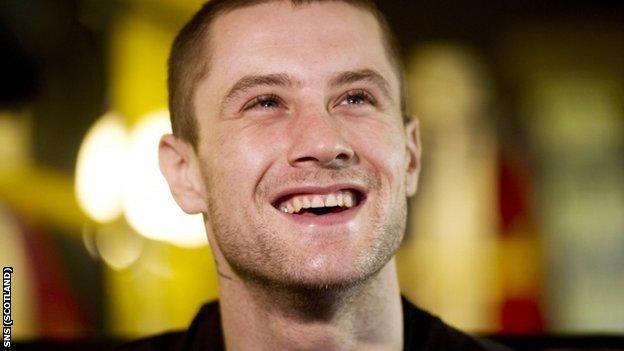 Ricky Burns is taking nothing for granted ahead of the first defence of his WBO lightweight title against Paulus Moses this weekend.
The 28-year-old is hopeful of setting up a fight with rival Kevin Mitchell, but says he can't look beyond his bout with the Namibian on Saturday night.
The two meet at Braehead Arena in Glasgow with a sell-out crowd expected.
"This is a very dangerous fight, but I'll do what I need to do to win," Burns told BBC Scotland.
"He's only lost once, he's a former world champion with 28 victories from 29 fights, 19 knockouts, which shows he can punch a bit.
"I've still not watched any footage of him, I've left that to my trainer. When you watch your opponent you tend to look at what they're good at, which can throw you off.
"I like to concentrate on what I'm going to do in the fight, so I go in there with a clear mind.
"We know he's a good boxer, we know he's got a big right hand - but I've been in the ring with big punchers before and proved I can take a shot so with this fight we'll just go out and take it from the first round."
Burns remains reluctant to look ahead to a possible bout against Mitchell in the summer, the Londoner having targeted an all-British showdown with Burns after defeating Felix Lora last month.
But the Coatbridge fighter admits such a fight would be popular with boxing fans - and Frank Warren who is promotor for both boxers.
"That is a big fight in Britain - and I think it is a fight that everybody wants to see," he added.
"I've always said I will do my talking in the ring no matter who they put in front of me.
"I need to get by Paulus Moses on Saturday which is going to be a tough, tough fight. I need to win this or these bigger fights that we're talking about won't happen."
And Burns feels his chances will be helped by being back in front of a home crowd for the first time in 12 months.
"I'm really looking forward to getting into the ring at the Braehead Arena - the last couple of fights have been away from home," he said.
"The support and the response I've been getting for this fight has been unbelievable. My phone's still going constantly with people asking for tickets.
"If I win on Saturday then I think we're going to need a bigger venue for the next fight."