Unbeaten David Price is flawed, says Sam Sexton
Last updated on .From the section Boxing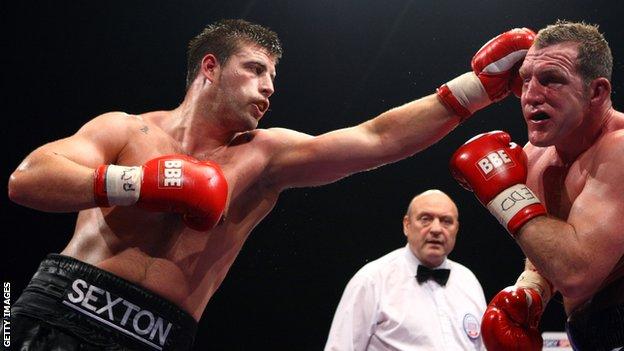 Sam Sexton has guaranteed he will beat David Price for the vacant British heavyweight title and end the Merseysider's unbeaten record.
The pair clash in Liverpool this May for the title vacated by Tyson Fury last month.
"I want that British title so bad and all I'm going to say is I'm going to get it," Norwich fighter Sexton, 27, told BBC Radio Norfolk.
"He's got a style I can see a couple of flaws in. I'm very confident."
Sexton, the former Commonwealth champion, failed in his previous attempt to claim the British title when he was stopped in the ninth round against Dereck Chisora in 2010.
This fresh attempt for the belt has come around after a potential fight between 28-year-old Price and Fury was abandoned.
Both sides accused the other of backing down but Fury subsequently vacated the British crown and is poised to face Martin Rogan, a man Sexton has two wins over.
"People can say he was scared or that he did it because of this or that," said Sexton.
"I'm sure he's got his reasons. I can't see a Rogan fight being a good fight for him, especially after I've beaten him twice.
"But maybe after I win the British title Fury can fight for it again.
"Fury's a good fighter but he's got so many flaws that can be exploited and I'm definitely the man to do that."
Sexton will have to overcome the current English champion Price first, who has won all 12 of his professional fights, 10 by knock out.
"It's a fight I really fancy. He's tall and awkward and he's a big hitter," Sexton continued.
"I definitely don't think he's been tested yet. I've been in with big hitters. My last fight was supposedly a big hitter [Larry Olubamiwo].
"Everyone in the heavyweight game can punch. I know David's got a hard punch but has he tested it against somebody who's got a chin?"