Frank Warren backs 'Superman' Ricky Burns to retain title
Last updated on .From the section Boxing
The "Clark Kent of boxing" squaring up to a Namibian police inspector has attracted a capacity 6,000 crowd to Braehead Arena on Saturday.
Paulus Moses, who back home heads a unit cleaning up the streets of crime, is looking take the WBO lightweight title from Ricky Burns.
But Frank Warren is backing the mild-mannered Scot to overcome "The Hitman".
"I think he is the Clark Kent of boxing. Once he gets in the ring, he becomes Superman," said the promoter.
"Outside the ring, he is a lovely guy.
"I really do feel, and obviously he has to win this fight, Ricky can go on and join me in becoming a member of the hall of fame. That's how good a fighter I think Ricky can be."
However, Warren insists that the former WBA world champion, who lost his title in May 2010, will provide the 28-year-old from Coatbridge with a stiff test.
"He is in the ring with a guy who has a very formidable record," said the promoter.
"I think it is a real tough fight and it is probably going to be Ricky's toughest fight.
"This fella has not come here to make up the numbers. He is in great shape and certainly in a great frame of mind, so Ricky has got to be at his best.
"Having said that, Ricky is a quality fighter and, hopefully if he comes through this, he will go on to bigger and better things."
Warren is eyeing the prospect of an all-British showdown with world-rated Londoner Kevin Mitchell but also does not rule out an all-Scottish fight with former world featherweight champion Scott Harrison, who is poised to return to boxing after a spell in prison.
"That is not a problem provided Scott gets a couple of fights under his belt," said Warren.
"He is promoted by me, so I am quite sure down the road that is one we can have."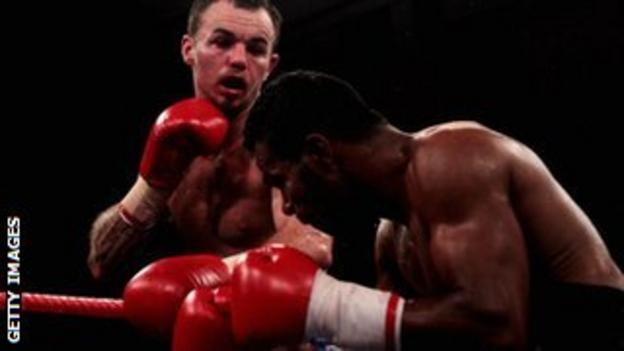 Warren thinks Burns has yet to receive the recognition he deserves, especially in beating Roman Martinez to win the super-featherweight title and then taking his present title from Michael Katsidis.
"He has beaten good fighters," he said. "I think he got the recognition in Scotland, but I don't think he got the recognition, certainly in the rest of the UK, the acknowlegement he should have got for beating the guy who, at the time, was ranked the best in the world, in Martinez.
"He did a job on him. He beat him at his own game and his performance against Katsidis was a masterclass.
"This guy should be a British sporting hero, not just a Scottish hero."
Burns, who is eyeing a unification title fight, is also expecting a tough battle.
"His record speaks for itself - one loss in 29 fights," he told BBC Scotland. "Nineteen KOs from the 28 victories shows he is a big puncher. Even when he lost, Miguel Acosta - world-class fighter.
"This is going to be a really, really tough fight. A genuine world title fight.
"We know he is a good boxer and 19 knock-outs shows he can punch - he's got a big right hand.
"He's got a good jab himself, but so have I. I have not watched any footage of him, but I can't underestimate Paulus at all.
"Because, if I do, these big fights aren't going to happen."
Moses dismisses suggestions that he is past his best at 33 years of age.
"If you want to be a world champion, you have to beat a world champion and that is what I am here for," he said.
"When people look at my record, they look at the knock-outs, but when I train for the fight, I don't train for a knock-out, I train for 12 rounds. A knock-out is a bonus for me."