London 2012: Teenage Afghan female boxer bids for Olympics place
By Michael Buchanan
BBC News
Last updated on .From the section Boxing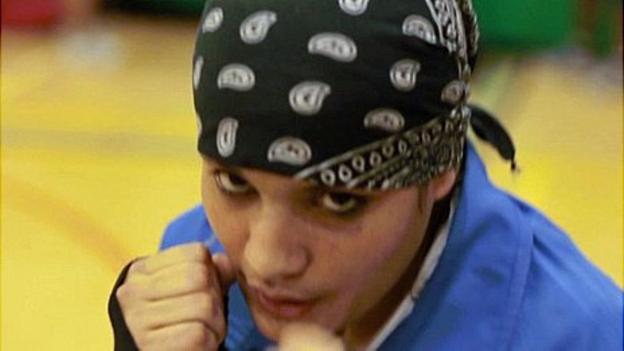 Women's boxing makes its Olympic debut at this summer's Games in London.
One of the more unlikely competitors hoping to take part is a teenager from Aghanistan.
Before the glory, the grind. In a cavernous, airless, orange-lit gym hall, 17-year-old Sadaf Rahimi has been skipping and jabbing and weaving and punching repeatedly for 12 hours each day for the past fortnight.
And Sadaf, who's hoping to represent Afghanistan at the Olympics, is loving it.
"The exercises and practices they design for us are very good," she says as sweat drips down her forehead. "They prepare us in such a way that when we are inside the ring we are not afraid of the opponent."
Sadaf is a flyweight, the most competitive level at the inaugural women's boxing Olympic tournament. She boxes in a long-sleeved vest and t-shirt, tracksuit trousers and a knotted headscarf.
Through her protective headgear you can see a thin line of mascara while a green, red and black wristband inscribed with 'I Love Afghanistan' becomes visible every time Sadaf throws a left jab.
She has no opponents in her weight division she can fight at home so she has travelled to Cardiff University to take part in an intensive training camp.
Organised by the International Amateur Boxing Association, it provides fighters from developing nations with an opportunity to get professional coaching.
Sadaf, whose sister also boxes, says her family supports what she's doing but she has faced considerable opposition in her deeply conservative homeland.
"A man with a long beard came to the Olympics office and said to the coach 'you must not train girls'," she said. "They even called my father to threaten him, asking him why he had allowed his daughter to do boxing. They told him we should be kept at home. However my father is happy that I practise boxing."
Sadaf has wanted to be a boxer since she was a little girl, having been introduced to the sport by a cousin who was a fighter.
She has been boxing for four years and her usual gym is in a rundown part of a Kabul sports stadium that was used by the Taliban to hold public executions.
Her promise led to her being chosen by the Afghan Olympic Committee to come to Cardiff, where she has access to state-of-the art equipment and professional coaches.
One of her trainers, Christy Halbert, says Sadaf had made remarkable progress given the challenges she faces.
"She's a smart person, which makes her a smart boxer. I'm very pleased with what she's doing. People from Afghanistan should already be proud of the achievements she's made so far," she explained.
Sadaf, who claims her boxing hero is Mike Tyson, appreciates that she is treading a path no Afghan woman has walked before.
Many 17-year-old girls in Afghanistan are already married. But Sadaf, who one day hopes to become a lawyer, has other aspirations. "I must make progress in sports. I will not marry soon. Afghan girls should tell the people of the world that we can progress, that women can advance as well," she said.
A total of 36 female boxers will compete in London, with 24 of them qualifying through the World Championships in China in May at which Sadaf will compete.
If she does not succeed there, she hopes to get one of 12 wildcard spots that will allow her to realise her dream.
Hear more about Sadaf Rahimi's story on BBC Radio 4's PM programme at 17:00 GMT on Friday 9 March.