Dereck Chisora says he regrets brawl with David Haye
Last updated on .From the section Boxing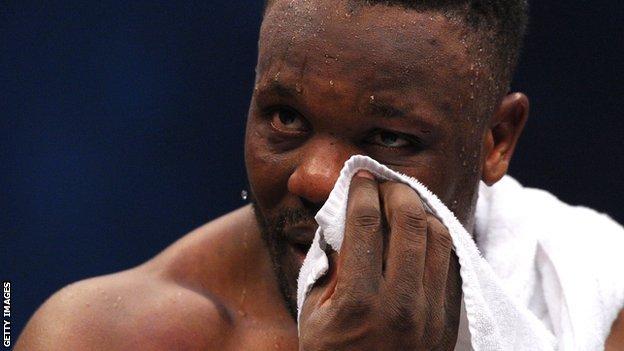 British heavyweight Dereck Chisora has described his brawl with David Haye in Munich last month as "inexcusable".
He has been summoned to meet British boxing officials on Wednesday, where he could receive a lengthy ban.
"Obviously I regret everything I did and said," Chisora admitted.
"My behaviour was inexcusable, but there were many things that went on behind the scenes that people don't know about," the Zimbabwe-born fighter told the Independent on Sunday.
"When I look back on it all now I am really embarrassed."
Chisora and Haye came to blows in front of the world's media after the former lost his challenge for Klitschko's WBC heavyweight championship.
In the immediate aftermath of the brawl, Chisora could clearly be heard threatening to "shoot" and "burn" Haye, a former heavyweight world champion.
"David Haye tried to hijack my press conference, shouting at the Klitschkos," Chisora explained.
"I walked over to him and the next thing I know he punched me with a glass bottle in his hand. I tripped and fell and dragged Haye with me.
"I was shouting, 'I am going to shoot you', but I would never do that.
"I don't have a gun, I've never owned one and never will. It was just a stupid remark."
As well as clashing with Haye after February's fight and striking his opponent at the weigh-in, Chisora also spat water into the face of Vitali's brother and fellow heavyweight champion Wladimir Klitschko inside the ring before the first bell.
"Something came over me as the referee called us to the centre of the ring and I sprayed [water] at Wladimir as he stood alongside Vitali," Chisora explained. "Don't ask me why. I just did.
"When I slapped Vitali [at the weigh-in], I immediately regretted it. I was thinking to myself: 'What did I do that for?'"
The British Boxing Board of Control are to meet Chisora in Cardiff in the next few days, and the heavyweight has spoken with sports lawyer Jonathan Crystal ahead of the hearing to receive guidance.
Chisora has already been given an indefinite ban from World Boxing Council, a move praised by the Klitschkos' manager, Bernd Boenter.
"Maybe [the BBBoC] have already made up their minds. Maybe they want to make an example of me," Chisora continued.
"I just hope they realise how sorry I am and that all I really want is for me to be allowed to get back in the ring again and do what I do best - fight."
Chisora's performance in the ring against Vitali Klitschko surprised many, with the unfancied Brit taking the champion 12 rounds.
According to Chisora, one of the aspects that he regrets most is that the clashes outside of the ring distracted from his achievements that night.
"I'm kind of upset, because all this has overshadowed my performance," he said.
"I know one day I will be the world heavyweight champion and that Britain will be proud of me."