Ricky Burns - a great in the making
By Keir Murray
BBC Scotland
Last updated on .From the section Boxing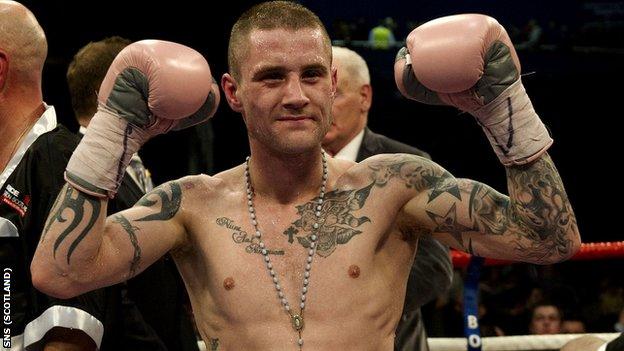 Sir Chris Hoy and Andy Murray are rightfully Scottish sporting heroes.
If Ricky Burns can maintain the momentum that has propelled him to world titles at two weights, if he can unify the lightweight division or win a world title at a third weight, this modest boxer should begin being mentioned in the same breath as his illustrious countrymen.
Burns, of course, would redden at such a suggestion.
Yet Saturday's polished victory over Namibia's Paulus Moses in his first defence of his WBO world lightweight title betrayed signs of a great in the making.
Moses, at 33 a fraction over five years older than the Coatbridge fighter, presented a significant threat. He held the WBA version of the strap until May 2010, his defeat by Miguel Acosta in his second defence the only blight on his 30-bout record prior to his clash with Burns.
"It was a good, hard 12 rounds," was Burns' assessment of his unanimous points win at the Braehead Arena, one that takes his record to 34 victories in 36 outings.
"It was a tough fight but we expected that and we trained for it.
"I can see why he has had 19 knockouts. He did have a bit of a bang about him."
In fact, the sinewy challenger deadened Burns' left arm towards the end of the fight, clattered the champion with a fistful of good shots and, with his rapid punching style, would have beaten a less courageous opponent.
But the most notable element of Burns' win was the breadth of talent that he has now added to the depth of his bravery.
While his stunning defeat of Roman Martinez 18 months ago to win the WBO super-featherweight belt showed his grit, his points win over Michael Katsidis at Wembley in November for the interim WBO title at lightweight earned him plaudits for his ring craft.
On Saturday, though, he looked even more impressive, without possessing a massive punch.
In superb condition, his footwork, self-control and range of punches will have pleased trainer Billy Nelson, who remarked after the bout that he could "hear the power of Moses' punches, being so close to the ring".
Amid the din of 6,000 raucous Burns fans, the challenger threw everything he had at Burns but never looked like the superior boxer. Mind you, one judge's 120-110 scoring seemed ridiculous: the others gave it to Burns 119-110 and 117-111.
Moses looked exasperated as he headed back to his corner at the end of the 11th round. He knew he needed a knockout to take the belt to Africa but ultimately could find no clean way through the pink-gloved guard of the Scot.
"He was strong, he caught me with a couple," a relaxed Burns said when he welcomed the media pack into his changing room.
"He was trying to draw me in and hit me with the big right hands over the top.
"I was trying to get in and out quick. I did hurt him a couple of times," he added, referring to some ferocious shots to Moses' body in the third and fourth rounds.
And Nelson was pleased that his tactics had paid off.
"You have a game plan to nullify the power," said the trainer.
"If he can't set himself, he can't produce the power. That's why you jab someone, to keep him off balance to stop him throwing power shots."
With Essex lightweight Kevin Mitchell a likely next opponent - the fighters share a promoter in Frank Warren - Burns, once he gets married in April, will work again with Nelson to hone his skills.
"Billy kept telling me between the rounds to keep my chin down," he admitted. "There are still improvements to be made."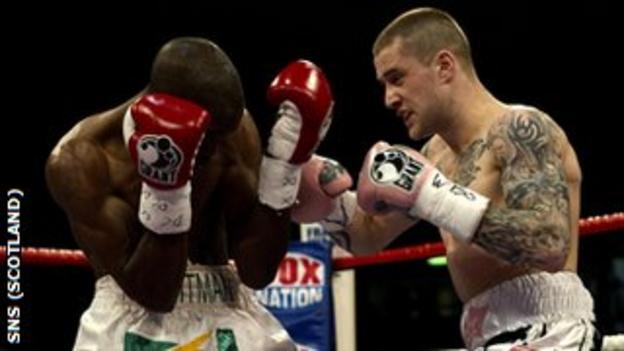 He will, however, be back in the gym prior to sessions with his trainer.
"I'll take a few days off and then get straight back in to the gym," he said.
"We get married in Mexico on 30 April. I'm not wanting to lose the six-pack for the photos."
That little gag showed Burns at ease with himself.
He admits it took him a while to get used to the fame: now he spends most of his four-hour stint in his Saturday job in a local sports shop signing autographs and posing for photos with fans.
The narrative surrounding Scottish boxing world champions is often depressing. It is perhaps one reason why Burns is so refreshing.
The country's first champ, Johnny Hill, died of pneumonia aged 23, and Benny Lynch lost his battle with alcoholism as a young man in the 1940s.
Jackie Paterson met a horrible end in a street fight in Natal in 1966 and, more recently, Paul Weir and Scott Harrison have been imprisoned before getting back to the sport to help keep them on the right side of the law.
Burns is a different sort.
In Scotland, his face is now well-known outside the boxing world, his affable manner in interviews winning him new fans.
A Scotland-England clash with Dagenham's Mitchell, possibly at Airdrie's football stadium, would bring Burns the fame he deserves outside his native country.
"A fight in Airdrie in the summer is something we could do," he said. "I think that would be a sell-out.
"We'll sit down next week with Frank and Alex [Morrison, his manager] and see what's next."