Matthew Macklin beaten by Sergio Martinez in New York
Last updated on .From the section Boxing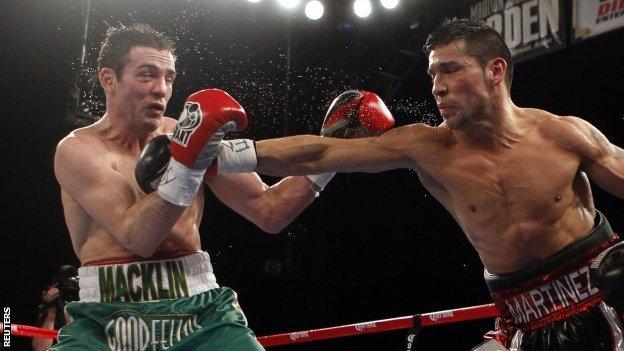 Sergio Martinez defended his reputation as the best middleweight in the world with a technical knockout win over Anglo-Irish fighter Matthew Macklin.
Macklin, 29, traded heavy blows with the Argentinian throughout an even contest in New York before he was knocked down twice in the 11th round.
Macklin's corner withdrew their man following the second knock down.
"I've never ever quit," said the Birmingham-born fighter afterwards. "I wanted to continue. I gave it 100%."
Although Martinez does not hold one of the four major belts, he is considered the de facto champion at 160lb - he is the WBC's obscure "diamond" champion and holds the Ring middleweight belt.
Consequently, the 37-year-old went into the fight at Madison Square Gardens as heavy favourite but Macklin's tactic of disrupting his opponent's rhythm worked well in the early rounds.
Martinez received an eight count after his glove touched the canvas in the seventh round, but from then on the South American upped his workrate and began to dominate.
Martinez sent Macklin to the canvas in the 11th round and although he got up, he was soon on the floor again.
The count reached eight as the bell went and, although Macklin wanted to continue, his corner called an end to the fight.
Macklin conceded that a dip in concentration ultimately cost him the fight.
"I switched off a little bit upstairs, stopped moving my head a little bit," he added on Sky Sports.
"It wasn't extreme fatigue because it wasn't that sort of fight but I certainly slowed a little bit, stopped moving my head, got a bit heavy on my feet and he caught me square a few times.
"That allowed him to get his confidence up and get into his rhythm."