Wales' Kerry Hope savours European middleweight title win
Last updated on .From the section Boxing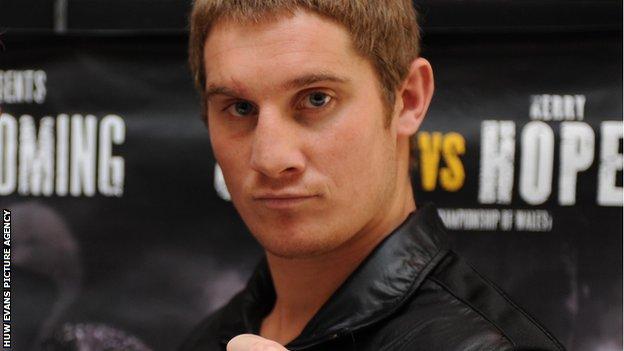 Kerry Hope has said he was always confident of causing an upset after he was crowned European middleweight champion.
The Welshman caused a major upset by outpointing previously-unbeaten champion Grzegorz Proksa via majority decision to take the title in Sheffield.
The 30-year-old Merthyr fighter had accepted the fight at a month's notice
"It's not quite sunk in yet," said Hope of his victory.
"I'm sure the next day or two when I'm hanging about with the family just relaxing I think it will."
Hope was in training for a Welsh middleweight title fight against Gary Cooper when he got the call to face the Surrey-based Pole.
Proksa had beaten former IBF middleweight champion Sebastian Sylvester in three rounds in October 2011 to claim the vacant title
"I suppose they thought matchmaking Proksa and myself would be an easy match up for him, an easy defence," said Hope.
"But I had other intentions and I trained hard. Getting the phone call about the fight there was no chance I was going to turn it down.
"[It was] a big opportunity and I've taken it with both hands. It didn't really bother me that anyone believed I weren't going to get it.
"As long as I believed in myself and my trainer believed in me I knew I was capable of pulling the upset off."
Hope admits he has endured an often frustrating career, which included two years out of the sport before his return in March 2011.
The Welshman, who has lost three of his 20 professional fights, spent a five month spell with trainer John Tandy in the United States in a bid to revive his career.
But Hope is now hoping European title victory over Proksa signals a brighter future.
"If people haven't followed my career they wouldn't realise what I've been through," added Hope.
"Opponents pulling out, shows being cancelled, weather conditions ruling shows off.
"I was struggling to get fights [but] down the line I'm European champion and you can't take that away from me. It's been an unbelieveble turnaround.
"I'm in a position now where I've got the European [title], who knows what could happen."