Carl Froch fresh for Lucian Bute world title challenge
Last updated on .From the section Boxing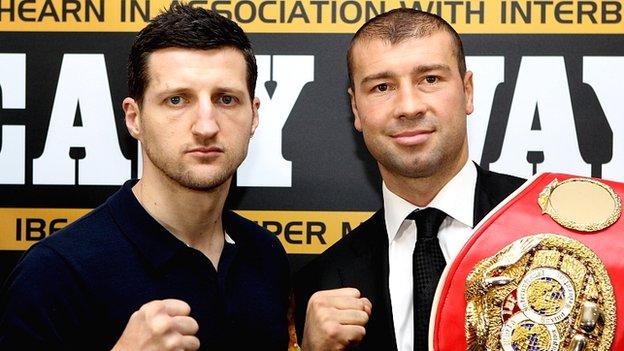 Carl Froch is adamant that he is still "looking pretty" ahead of his world title clash against Lucian Bute on 26 May, despite his gruelling schedule.
The British boxer will bid to regain a world title for the second time when he faces IBF super-middleweight champion Bute in his home town of Nottingham.
But there are concerns that a series of seven sometimes brutal fights since 2008 have diminished him as a fighter.
"I'm still standing and looking pretty. I feel on top of my game," said Froch.
"I've been fighting these top-level fighters for three years, but I'm not the kind of fighter that gets beat up. I don't fight with my face.
"I'm rangy, I box, so while I've been in elite-level fights, I've never been stopped or knocked out. I've not taken much hammer. It's not been a hard-wearing career."
After winning the WBC title in a savage encounter with Jean Pascal in 2008, Froch beat Jermain Taylor in a thrilling bout before signing up for the Super Six super-middleweight tournament.
There followed a scrappy decision over Andre Dirrell, a points defeat by Mikkel Kessler and points victories over Arthur Abraham and Glen Johnson.
That run of fights, the last three outside the United Kingdom, took him to the Super Six final, in which he was outclassed by American Andre Ward last December.
But Froch, 34, admits that it is a relief to be fighting in Britain for the first time since the Dirrell bout in October 2009.
Since 2004, all of 32-year-old Bute's fights have taken place in either Montreal or Quebec City, except for two that took place in his native Romania. And Froch gives credit to him for agreeing to leave his comfort zone of Canada.
"He's been forced into a situation where he can't stay at home any more defending his IBF title," Froch told BBC Sport. "He's got to take to the road and fight somebody.
"And he's got the safety net of a rematch clause. If he comes to Nottingham and gets beat, at least he's got Carl Froch back in Canada. But you've got to give him credit for boxing in my backyard."
However, Froch insists that Bute, who was not part of the Super Six tournament, has not yet proved himself to be in his class.
"Everyone who's been put in front of him he's beat but he's not mixed at top level," said Froch, who has 28 wins (20 KOs) and two defeats as a professional.
"He's not really been in there with elite-level fighters, mixing it with the sort of fighters I've been in with."
Bute, unbeaten in 30 fights (24 KOs), says this is his chance to prove he is not the protected fighter some think he is.
"I really wanted to fight in Nottingham, in Froch's home town," said Bute. "It's the time to prove I can fight anybody, anywhere.
"The fact is I fight in Montreal, Quebec City or Romania because I've never received any offers from other promoters and fighters. So the time is right to shut up all the critics."