Enzo Maccarinelli targets elusive British belt
Last updated on .From the section Boxing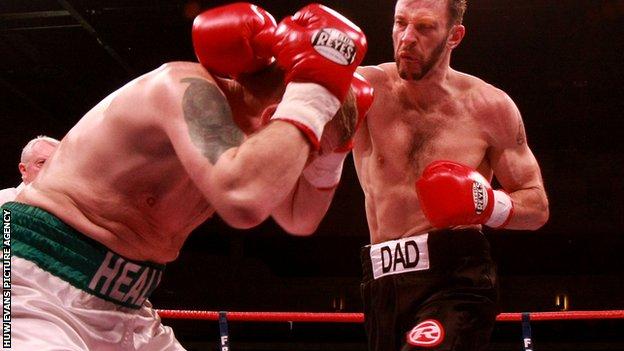 Enzo Maccarinelli insists his return to the cruiserweight division is purely temporary as he aims to fulfil his ambition of winning a British title.
The 31-year-old Welshman will face champion Shane McPhilbin in Wolverhampton on Friday night.
Maccarinelli has dropped to light-heavyweight as he looks to resurrect his career, but is happy to move up a division again for a one-off bout.
"Winning a British title is something I've always wanted to do," he said.
"And my father always wanted me to win the belt as well. I want to win it for him."
Maccarinelli's father and former trainer, Mario, died in January. Four weeks later, Maccarinelli returned to the ring for his second bout at light-heavyweight.
Despite beating Ciaran Healy inside two rounds in Cardiff, the former WBO cruiserweight champion says he "wasn't with it" as his thoughts were still consumed by his father's death.
"I grieved later that night," he revealed. "It was good to get it out of my system and I'm fully prepared now."
Although Maccarinelli has beaten two British champions during his career, he has never worn the Lonsdale belt.
Those victories came against Bruce Scott (2003) and Mark Hobson (2006) when their British titles were not on the line.
Maccarinelli expects to give away over a stone in weight when he meets McPhilbin on Friday, who recovered from two early knockdowns to dethrone champion Leon Williams in January.
But the Swansea fighter says he needed no second invitation to take the bout as he continues towards his aim of being a world champion at light-heavyweight.
"My downfall in life has been my inactivity," he said. "I've been offered this fight, it's a tough fight and I'm giving a lot of weight away.
"But it's keeping me active, keeping me in the gym and it's keeping me progressing."
Maccarinelli has returned to train with Enzo Calzaghe, but the man who guided son Joe Calzaghe to greatness will not be allowed in his fighter's corner on Friday after having his training licence withdrawn by the British Boxing Board of Control.