Trainer Enzo Calzaghe has training licence denied
By Peter Shuttleworth
BBC Sport Wales
Last updated on .From the section Boxing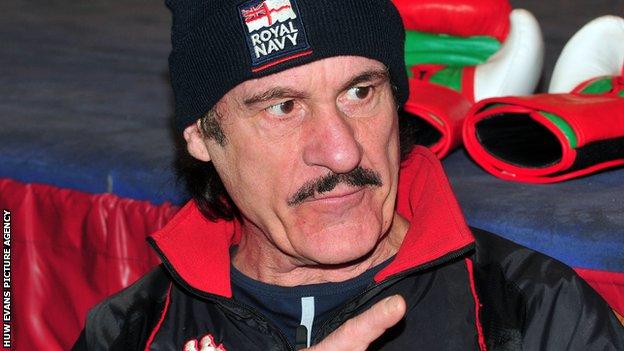 World champion coach Enzo Calzaghe has had his training licence denied by the British Boxing Board of Control.
The 61-year-old, one-time coach of former super-middleweight Joe Calzaghe, required a new licence when his old one lapsed following son Joe's retirement.
But Calzaghe, a trainer of 30 years, cannot renew his licence until he does their mandatory first aid course.
The board have told him he will get his licence if he finishes one of their three courses in the next three months.
Calzaghe has a St John Ambulance first aid course certificate, which was once a valid BBBoC approved first aid qualification, but the board insist he must complete their "three to four hour" course.
The British Boxing Board require all trainers undertake their own one-day first aid course before they can be granted a licence to coach boxers as general secretary Robert Smith says the BBBoC has a "duty of care" to their boxers.
He has even paid the required £50 for the course but claims he did not the receive the BBBoC letter informing him of the dates.
Calzaghe's licence impasse is a blow for Enzo Maccarinelli. as the Welsh fighter can now not have Calzaghe in his corner for his British cruiserweight title shot on Friday.
Calzaghe, who has been in the corner for 33 world title fights, took a break from boxing when Calzaghe Jr retired in 2009 but has since returned to boxing and subsequently reunited with Maccarinelli.
The 31-year-old has earned a British title shot against champion Shane McPhilbin in Wolverhampton's Civic Hall on Friday but will now not have the experienced Calzaghe in his corner.
Smith explains: "Mr Calzaghe's original licence lapsed a couple of years ago after Joe retired and he didn't renew it.
"When he looked to take out a new licence, he went before the Welsh area boxing council and was duly recommended subject to a completing a British Boxing Board of Control first aid course.
"He was invited on a course in Cardiff on 28 January and failed to attend and was invited onto a course on 11 March in London but he failed to attend.
"So we can't grant him his new licence because he hasn't completed his licence application by attending one of our purpose-built first aid courses.
"We have a course in Chester in April, one in Glasgow in May and another in London in June.
"All he has to do is attend one of them and he will get his licence.
"We're not asking for the world, just common sense and it is the same in any sport.
"We have a duty of care to all of our boxers and it is deemed by introducing our own first aid course we are looking after them as best we can."
Calzaghe helped his unbeaten son Joe rule the super-middleweight division for 10 years before stepping up to become the world's top light-heavyweight by beating Bernard Hopkins and Roy Jones Jr in the United States.
The renowned coach completed a Calzaghe double when he won the 2008 BBC Sports Personality Coach of the Year crown when Joe scooped the main award after defeating the legendary Americans.
The Italian coach also trained Maccarinelli and Gavin Rees when both were cruiserweight and light-welterweight champions respectively.
Maccarinelli will be assisted by his brother Valentino and respected boxing corner-man Dean Powell when he takes on McPhilbin on Friday.