London 2012: Anthony Ogogo convinced of medal chances
Last updated on .From the section Boxing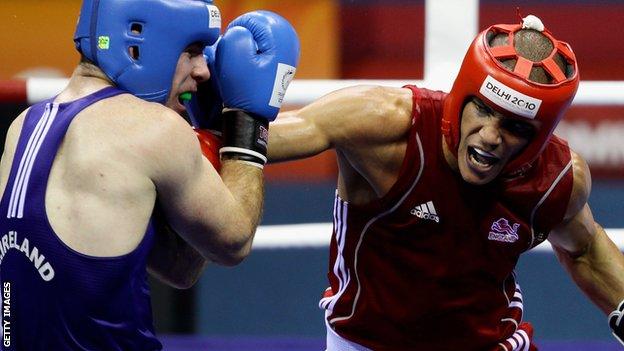 Middleweight Anthony Ogogo is convinced he can win an Olympic medal - providing he qualifies to compete at London 2012.
But he must win next month's European Championships qualifying event to make the Olympic team and has yet to be picked to go to Turkey.
"Getting to the Olympic Games now, for me, would be harder than winning a medal," he told BBC Radio Suffolk.
"I know if I get there, I'll have a massive chance or realising the dream of winning a medal for myself and for my country."
Ogogo would have to win five bouts at the European Championships to take the title in his weight division, but his selection is not a foregone conclusion after such a period of inactivity.
"There's two, three members on the GB squad at each weight so it's going to be hard just to go but in the last 18 months, I've beaten some of the best fighters in the world and that's (despite) being injured as well," he said.
Ogogo will shortly attend a training camp in Sheffield where he will share the ring with fighters from the Kazakhstan national squad.
"Hopefully, after this Kazakh camp, I can get to a tournament before that [the European Championships] to blow the cobwebs off before the qualifiers.
"I'm not being arrogant, but when I'm 100% physically fit, mentally fit, confident in my own ability, I'd be really hard to beat, it doesn't matter who I fight.
"I think the coaches know that as well. They saw how gallantly I performed at the World Championships, whilst I was injured, so I think that will hold me in good stead as well.
"They've seen how determined I've been - and have had to be - to come back from such a serious injury so quick."