Nathan Cleverly 'doubts' about Bernard Hopkins unification show
Last updated on .From the section Boxing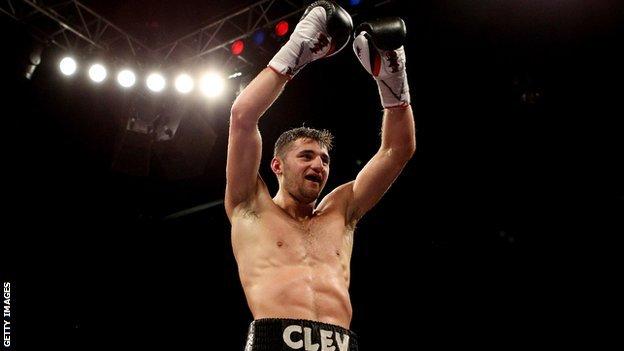 Nathan Cleverly has conceded he has his "doubts" that a light-heavyweight unification clash with American legend Bernard Hopkins will actually happen.
The WBO light-heavyweight champ defends his title against Robin Krasniqi on 28 April and is targeting a showdown with veteran Hopkins in his native Wales.
Hopkins defends his WBC crown in his rematch with Chad Dawson on the same night at Cleverly v Krasniqi in London.
"Hopkins has a tough fight," said the 25-year-old undefeated Cleverly.
"Against one of the toughest in the division, Chad Dawson is a class fighter.
"It will be a difficult fight at his age, against a young fresh fighter and I have my doubts.
"But Hopkins is good at finding a way to win and I hope he can do it on the night and keep our great potential fight alive.
"If he beats Dawson and wins and I beat Krasniqi, we can pretty much say the fight will take place in Wales the summer - and that will be a massive event."
Cleverly is in training for his fourth defence against WBO number four ranked Krasniqi, who has never been stopped in 39 fights, at London's Royal Albert Hall.
But the Welshman is hoping for a routine defence against the Kosovan before Cleverly, who was 18 months old when Hopkins made his professional fight debut in October 1988, clashes with the wily 47-year-old "master."
And both Cleverly's promoter Frank Warren and Hopkins' promoter Richard Schaefer of Golden Boy Promotions insist the match-up could happen.
"It's definitely a case of getting the successful defence done on 28 April and then we can look for a big showdown in the summer in a big unification fight, in Wales," said Cleverly.
"I think Hopkins is the fight that would make the best event," he said.
"I think more of the boxing fans know Bernard Hopkins. He's in the history after becoming the sport's oldest world champion and he's still a great fighter.
"And I know that would be a great event and a great fight.
"The promoters have got together and most notably, myself and Hopkins has been highly talked of. That would be special, to bring an event like that to Wales.
"So now that the promotional companies are talking, it's basically up and running now and just a matter of putting things together. So it's a great start."