Tommy McCarthy fails to secure an Olympic place after losing semi-final in Turkey
Last updated on .From the section Boxing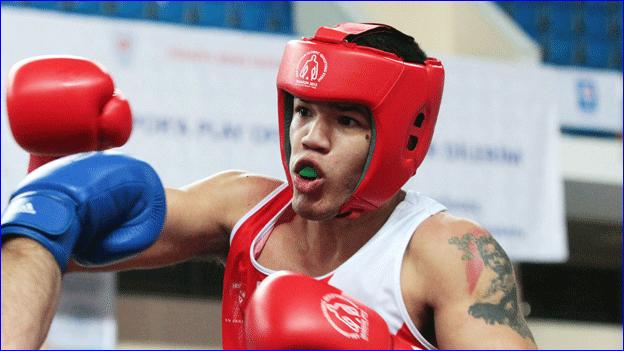 Tommy McCarthy has missed out on a place at the London 2012 Games after losing his semi-final at the Olympic qualifying tournament in Turkey.
The Belfast heavyweight trailed 4-3 after the first round of his contest against Vladimir Cheles of Moldova.
McCarthy was 8-6 down after the second round and trailed 15-12 by the end.
Welterweight Adam Nolan became the latest Irish boxer to progress to the Olympics as already-qualified Paddy Barnes lost his semi-final on Friday.
Nolan beat Romanian Ionut Gheorghe to qualify for the welterweight final which was enough to progress to London.
But Barnes went down to a controversial 21-14 defeat in his light-fly semi-final against Turkey's Ferhat Pehlivan.
2008 Olympic bronze medallist Barnes had already qualified for the Games after progressing to the light-flyweight semi-finals in Trabzon but he looked far from happy with the judges' verdict as he went down 21-14 to the home fighter.
Barnes appeared to dominate the opening round but was adjudged to be 6-4 in arrears at the bell.
The Olympic bronze medallist did get caught with a couple of decent shots in round two, which he lost 9-5.
Neither fighter appeared to land too many clean blows in the final session but the judges ruled that the Turk had completed a 21-14 win.
Barnes' reaction as he repeatedly tapped his head with his index finger spoke volumes about he viewed the judges' verdict.
Belfast flyweight Michael Conlon had already qualified for London at last year's World Championships, along with middleweight Darren O'Neill and bantamweight John Joe Nevin.
Nolan won every round in his fight to complete a 19-10 win over Romanian Gheorghe in his welterweight semi-final.