Chad Dawson beats Bernard Hopkins to win WBC title
Last updated on .From the section Boxing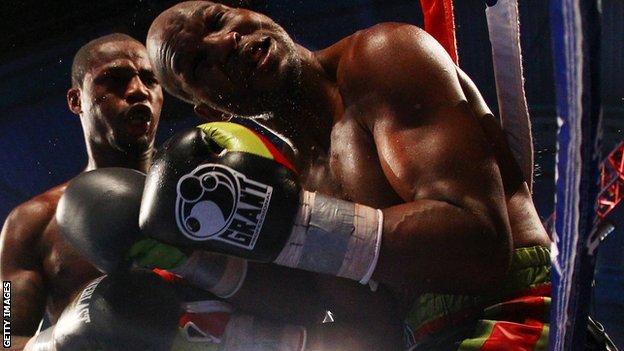 Chad Dawson defeated veteran champion Bernard Hopkins on points to take the WBC light-heavyweight title.
Dawson was cut above his left eye after an accidental Hopkins headbutt in round four, while Dawson almost threw Hopkins out of the ring in the next round.
Two judges scored the fight 117-111 in Dawson's favour, the other 114-114.
"I did what I came to do," said Dawson, who was awarded their initial contest last year on a technical knockout before the decision was overturned. "I got my belt back."
In round two of their previous bout six months ago, Dawson lifted 47-year-old Hopkins by the leg and tried to throw him to the canvas and the contest was halted with Hopkins claiming he had dislocated his left shoulder.
Referee Pat Russell awarded the fight to Dawson, saying no foul had been committed, but a rematch was ordered after the result was overturned.
The rematch in Atlantic City on Saturday could have gone the same way as their first contest when, at the end of the fifth round, Dawson grabbed Hopkins round the waist and swung him across the ring and almost through the ropes.
Hopkins did likewise in the 11th round, wrestling Dawson to the canvas as the fighters tired and the contest deteriorated into a series of clinches.
"I've got to give him a lot of credit," added Dawson. "He's a future Hall of Famer, he's a hell of a fighter. But he's a dirty fighter.
"My head is hurting from all the headbutts.
"But if you can get through 12 rounds with him, you can get through anything."
Wales' Nathan Cleverly could be next in line to fight Dawson who has only lost one of his 32 fights, while Hopkins will be left pondering his future.
The former undisputed world middleweight champion was angry with the decision, saying: "What did he do to win that fight?"
He also stood on the ring apron shouting "look at my face", which was relatively untouched in comparison to Dawson's which was battered and bloodied.