Miguel Cotto and Floyd Mayweather make weight
Last updated on .From the section Boxing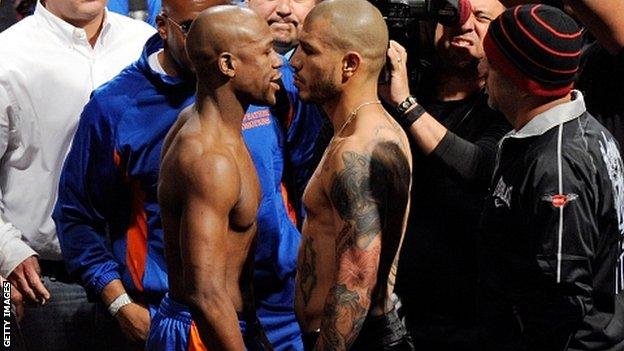 Miguel Cotto and Floyd Mayweather both made the weight ahead of Saturday's WBA light-middleweight title fight.
Cotto weighed in at 11st on Friday, three pounds heavier than Mayweather, who tipped the scales at 10st 11lbs.
The pair were greeted by a packed weigh-in crowd of about 6,000 at the Grand Garden Arena.
Both fighters' staredown lasted more than 70 seconds, with the two exchanging words, a rarity for the usually quiet Cotto.
The weekend bout is billed as pitting Mayweather's speed against Cotto's power, but the 35-year-old American was at pains to play down the perceived advantages of either man.
"Miguel is a true warrior, a tough champion, and to go down in the hall of fame as one of the best, you have to face the true champions out there," Mayweather said.
"I may come out and not be that fast. He may come out and be fast.
"You don't know what they've been working on in their camp. They may have been working on just a certain thing just to get his speed up."
Mayweather boasts an undefeated, 42-fight professional record. He was last in action when he beat Victor Ortiz for the WBC welterweight title in September.
But Cotto is unperturbed by that record, and believes he heads into the fight in the best form of his career.
"Mayweather has beaten a lot of good fighters, but is facing the best Miguel Cotto ever," the Puerto Rican said.
"Mayweather is facing a guy who can put pressure on him and who can fight."
Cotto has only been beaten twice in his career, and in December he avenged his only other previous defeat to Antonio Margarito with a ninth-round stoppage.
He added: "I am happy with my career and two defeats made me the man that I am today. When your confidence is back you can reach for the top.
"When I got revenge against Margarito I felt I was back in the game again. I felt much better in myself and this fight has come at the right time for me."