Haye v Chisora fight will be freak show, says Wladimir Klitschko
Last updated on .From the section Boxing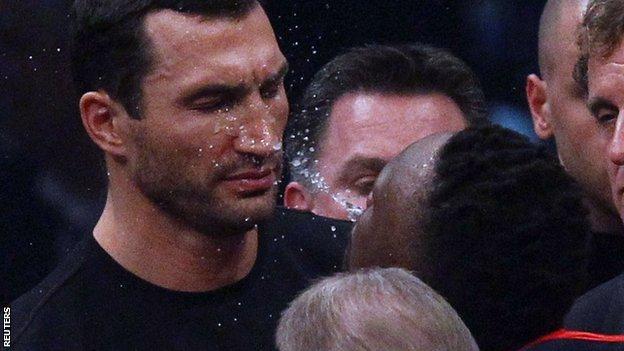 Wladimir Klitschko believes the heavyweight clash between David Haye and Dereck Chisora on 14 July will be a "freak show".
"It's a freak show under freak rules," the Ukrainian world champion told BBC Radio 5 live.
"It's a spit in the face of the British Boxing Board of Control."
The BBBofC will not sanction the contest because neither man holds a British boxing licence.
Wladimir was in Munich supporting his brother when Haye and Chisora grappled with each other during the post-fight press conference.
Chisora slapped Vitali at the weigh-in of the WBC title contest and then spat water in the face of Wladimir moments before the bout.
As a consequence, the 28-year-old had his boxing licence withdrawn, although he has appealed against the decision. Haye opted not to renew his own licence having announced his retirement in October 2011.
"To get a licence for this man [Chisora] is disgraceful for the sport," added 36-year-old Wladimir, the WBA, IBF, WBO and IBO champion.
"How can you have such an event featuring a man who has shown his behaviour to the world, especially considering what he did at the press conference, where he threatened Haye?
"It's something that isn't good for the fans and sport. How's it possible that this is happening on British soil?"
British boxing promoter Frank Maloney said the fight would damage boxing.
"These guys are two losers. It's happening because of a punch-up in a press conference," he told BBC Sport.
"What sort of message does that send out to young people? If you want to get on in the sporting world, be a thug - that's what it really sends out.
"It's bad for British boxing, bad for boxing worldwide. It sends out the wrong message."
Haye's manager Adam Booth defended the bout between his fighter and Chisora as he believes the BBBofC has not been consistent.
"From my position, I think that the criticisms and everything that has happened since they had that scrap in Munich has been over the top," Booth told BBC Radio 5 live.
"That wasn't the first time that two professional boxers have had a fight outside the ring."
Asked why Haye came out of retirement, Booth added: "We were in the process of negotiating a fight with Vitali Klitschko so he was planning to come out of retirement anyway, as he always said.
"The clamour for a fight with Dereck has built up beyond anything I would have imagined because of that brawl.
"Originally, he was planning on fighting Vitali Klitschko before the summer. We have now started negotiating a fight with Vitali after the summer so he decided to accept the offer for this one."
The Klitschko brothers' manager Bernd Boente did not back up Booth's claim of a possible Haye-Vitali Klitschko contest and also told BBC Radio 5 live: "They [Haye and Chisora] both lost to the Klitschkos. They are on the second level. We could [not] care less."
But British and Commonwealth super-middleweight champion George Groves, who is trained by Booth and promoted by Warren,believes the Haye-Chisora fight could be a good thing for boxing.
"It's definitely not a freak show with freak rules," he said. "The fight has a licence from a reputable boxing organisation - they've got around the red tape that way to set up a big fight."
He added that incidents such as the brawl between the two went "hand-in-hand with boxing sometimes".
Former British WBC super-middleweight champion Carl Froch said: "If the fans want it, it should happen, but there should be a meeting with the BBBofC and both fighters.
"I wouldn't say the fight shouldn't happen, because if the rules are there and they can get licences somewhere else, then why not?"