Haye-Chisora: British boxing board condemns Upton Park fight
Last updated on .From the section Boxing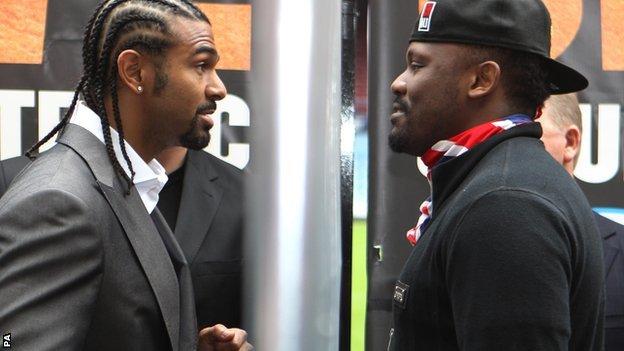 The British Boxing Board of Control has condemned the proposed fight between David Haye and Dereck Chisora and threatened to remove the licence of anyone involved.
The BBBoC said: "Those behind this proposal are not concerned with the interests of the sport of boxing.
"Anyone who participates will be deemed to have terminated their membership."
Haye and Chisora will fight at West Ham's Upton Park ground, having been involved in a brawl following Chisora's defeat by Vitali Klitschko in Munich in February.
The BBBoC will not sanction the fight because neither man holds a British licence.
Chisora had his boxing licence withdrawn after the brawl in Munich, although he has appealed against the decision, while Haye opted not to renew his own licence, having announced his retirement in October 2011.
The BBBoC statement read: "Dereck Chisora has recently had his licence withdrawn on the ground that he is not a fit and proper person to hold a boxer's licence.
"David Haye does not hold a boxer's licence with the British Boxing Board of Control.
"If he applied for a licence his fitness to hold a licence would have to be considered.
"Any member who participates in such a promotion would bring the sport of boxing into disrepute and would wholly undermine the authority of the British Boxing Board of Control.
"For the avoidance of doubt, any member of the British Boxing Board of Control who participates in any way in such a promotion will be deemed to have terminated his/her membership of the British Boxing Board of Control and his/her licence therewith, for the reasons stated above.
"[The BBBoC] does not approve of such a promotion taking place within its jurisdiction and will not supply any of its officials to officiate at such a promotion."
Bruce Baker, chairman of the Professional Boxing Promoters' Association and the UK representative of the Luxembourg Boxing Federation, believes the statement is "just a threat".
"We are looking at the statement, our solicitors are looking at it and we'll make a reply in due course," he told BBC Sport.
"I am confident the show will go ahead. Nobody is doing anything illegal."
Frank Warren, Chisora's manager, does not think his licence as a promoter is under threat.
He said on Tuesday: "What I'm doing is legal and lawful.
"I have a managerial contract with Chisora, I have legal obligations to him and I won't have these compromised by the British Boxing Board of Control.
"When they made their decision, they said he was able to apply for a licence in another jurisdiction. That was said at the hearing, and that is what he's done."