Amir Khan calls for compulsory drug testing in boxing
Last updated on .From the section Boxing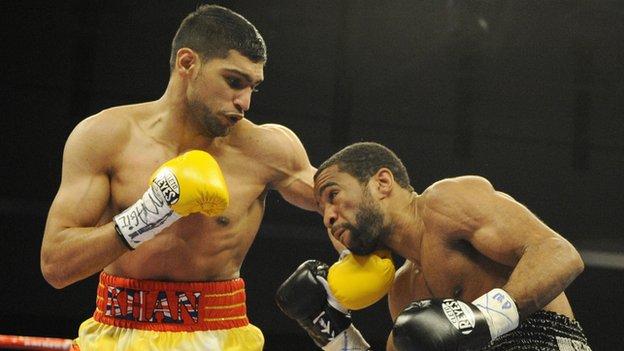 Amir Khan says compulsory drug testing must be introduced in boxing in an attempt to clean up the sport.
Khan, 25, told BBC Radio 5 live that taking on Peterson had been "like fighting two people".
"All fighters should be tested before and after a fight," he added.
"It will make the sport cleaner and that's what we need."
The Bolton-based fighter had been due to meet Peterson in a rematch of their controversial December bout on Saturday.
But the fight was cancelled after Peterson tested positive for synthetic testosterone.
Peterson says he took the testosterone for medical reasons and has rejected calls from Khan to surrender his WBA and IBF belts.
But Khan said: "I think he knows deep down he did wrong. It's a shame the fight didn't happen. I trained out of my skin and wanted to win those titles back."
Peterson has apologised for the fight being cancelled but Khan said: "It will take more than an apology for what happened last December, my life was at risk. One punch can change a fighter's life.
"The way he kept coming forward after he was put down twice in the first round, the way he was recovering, I knew this was not the same Lamont Peterson I had been watching in videos, this guy was totally different.
"It was like fighting two people in the ring. I was hurting him and putting him down and he was still coming forward.
"I have fought big punchers like Marcos Maidana and other names out there and he seemed to punch harder, be a lot fitter than them. It just shows that performance enhancing drugs do make a difference and I saw the difference.
"He should be punished for what he did."
Khan said he now wanted the independent Voluntary Anti-Doping Association to be involved before and after all his future fights and hoped more fighters would follow suit.
One of those fights could be against WBC champion Danny Garcia, whom Khan said he is hoping to meet in July.