Carl Froch's partner on the highs and lows of watching him fight
By Jimmy Smallwood
BBC Sport
Last updated on .From the section Boxing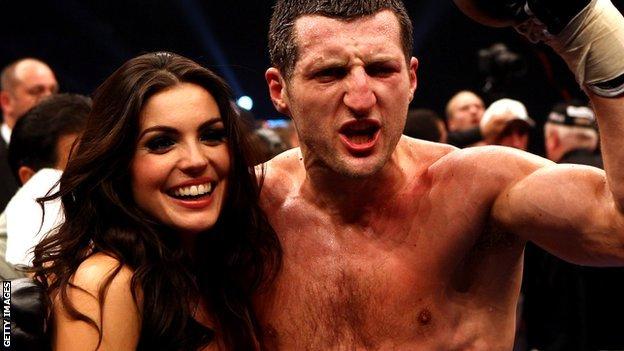 "I'm the big-mouth at ringside!" Rachael Cordingley tells BBC Sport, laughing. "I'm Carl's cheerleader, his number one fan."
And the noisiest fan of all will be glamour model Cordingley, Froch's partner and mother of their young son.
And as the 34-year-old Froch prepares to scrap for the IBF world super-middleweight title against undefeated Lucian Bute, Cordingley is clear that, once Froch is in the ring, a fan is all she can be.
"I'm not shouting advice, just encouragement," she insists. "I love him so much, and I know what time and effort he puts in."
Then comes a moment of candour, as she contemplates his return to the fight scene. "I don't really enjoy watching it," she admits quietly.
Boxing is a notoriously solitary sport, and many a fighter has been afflicted by loneliness both inside and outside the ring.
Froch has had a near six-month hiatus since the conclusion of Showtime's gruelling Super Six tournament.
The global competition took place over two years and involved five testing bouts for Froch, including fights in Denmark, Finland and the United States.
His defeat on points to Andre Ward in the final in Atlantic City in December brought to a close a journey that started in 2009.
"It was a long, drawn-out two years of a competition which I'm very, very happy to have said goodbye to," Cordingley admits. "A fantastic tournament, but I'm glad it's finished."
Cordingley describes herself as an enormous sports fan - "I've always grown up with sport. Whatever sport is on I'll watch" - and has attended every Froch fight since the Jermain Taylor bout in Connecticut in 2009. And she admits to having initially enjoyed the sport on a visceral level.
"I really enjoy boxing. I really enjoy watching UFC, ultimate fighting. I love the blood and everything!
"My first fight was the Taylor fight. I didn't really know what I was letting myself in for. That, for me, was a total eye-opener.
"The emotions I went through that night… now when I think about it my eyes still well up and I get goose pimples. At one point in round three Taylor knocked him down. I thought this wasn't supposed to happen, and I had Carol, Carl's mum, by my side screaming away. Then, when he won at the end, it made it an emotional rollercoaster.
"To this day it's still my favourite fight."
Yet the arrival of their young son Rocco in June 2010, while Froch was at the centre of the globe-trotting Super Six event, has changed her perceptions of her partner's chosen career. No longer for her the enjoyment of the physicality, the blood and the pain at the heart of the game.
"It's gradually got worse for me," Cordingley admits. "I don't know what it is.
"It just makes me worry, because now we've got Rocco. It's hard, and very, very stressful.
"I like the finish, if I'm honest. It's just total worry and nervousness for me now. It's got worse, because I love him so much. When it's finished and over then I'm happy."
Although Froch's professional record of 28 wins - 20 by KO - and just two defeats in his 30 fights makes impressive reading, those two defeats came in his last four bouts, and saw him surrender the WBC super-middleweight title he first claimed in 2008.
With more of her partner's career behind than ahead of him, and with a son growing up, has Cordingley ever broached the subject of retirement?
"I don't think it would be right for me to ask him," she says. "He'll stop when he wants to.
"Carl's a young 34-year-old. If he wants the fights and he's still got that desire to get up in the morning, train and run, then I think he'll still do it.
"He's got a little bit more to show yet. Maybe a rematch with a few others. We've talked about retirement, but he wants a few more yet."
As for her own career, Cordingley has plans to resume her modelling once Rocco grows older. A one-time Miss Maxim and Miss Maxim Global, Cordingley says: "I enjoy modelling and I still want to do it. I suppose I am a glamour model. I do underwear and bikini modelling, but not Page 3. I do all the lads mags and newspapers.
"Carl's totally supportive of my career. I think he quite likes it. He's a show-off, saying: 'Look at my missus in that!'"
She will be ringside on Saturday, bawling out advice and encouragement, living and feeling every jab and hook. She remains the woman providing the rock to The Cobra, the support and stability he needs.
"I don't want anything to happen to him," she says. "But it's Carl's career and our life. Whatever he thinks is best and whatever he wants to do, I'll be behind him."