Haye-Chisora: Frank Warren lacks respect - Eddie Hearn

Last updated on .From the section Boxing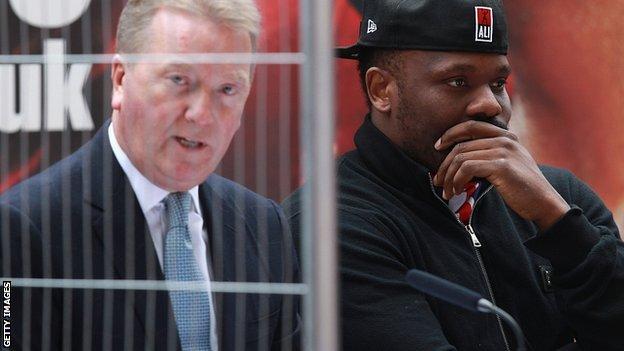 Eddie Hearn has accused fellow promoter Frank Warren of lacking respect for the sport of boxing in light of Warren's involvement in the proposed bout between David Haye and Dereck Chisora.
"You would have thought someone that has been involved in the sport for so long would have a lot more respect for the game," Hearn said of Warren.
"Greed and desperation meant they weren't prepared to wait."
Haye and Chisora will fight at West Ham's Upton Park ground, only six months after being involved in a brawl following Chisora's defeat by Vitali Klitschko in Munich.
The British Boxing Board of Control (BBBofC) will not sanction the fight because neither man holds a British licence and has threatened to remove licences from anyone involved, including Chisora's manager Warren.
Chisora's boxing licence was withdrawn after his actions in Munich, although he has appealed against the decision, while Haye opted not to renew his licence having announced his retirement in October 2011.
The WBC suspended Chisora indefinitely for his behaviour before and after the contest - the 28-year-old also slapped Klitschko at the weigh-in and spat water at his brother Wladimir before the bout - and on Friday threatened to expel any person or organisation involved with Haye-Chisora.
"Frank Warren is set to make a lot of money from this show," Hearn, whose fighter Carl Froch challenges Lucian Bute for the IBF super-middleweight crown in Nottingham next Saturday, told BBC Sport.
"But it's doing no good for the sport of boxing. When you join up to a set of rules, you abide by them. If you don't, you get penalised and punished.
"They could have waited four or five months and it might have been allowed by our governing body [the BBBofC], but now it's not.
"I understand the demand for the fight and casual fans may not understand everybody in boxing's disgust that this fight is looking to go ahead.
"But anyone who cares about boxing should care about this fight taking place and should know that this is a pivotal moment for the sport.
"It could totally dilute boxing in that another governing body can come in and run shows in this country, create new titles.
"It will roll on and on. The Board is backed into a corner and it will fight every inch of this. They've got the support of a lot of powerful people."
Hearn said Froch-Bute would be welcome respite for a sport that has had more than its fair share of controversy of late.
As well as the Haye-Chisora furore, Amir Khan's world title bout with Lamont Peterson fell through last week after the American failed a drugs test.
"This [Froch-Bute] is some good news for the sport," said Hearn.
"This is a great event for the world title, sanctioned by our governing body, the British Boxing Board, the only relevant governing body we should adhere to in this country."