Ireland Katie Taylor wins her fourth world title in China
Last updated on .From the section Boxing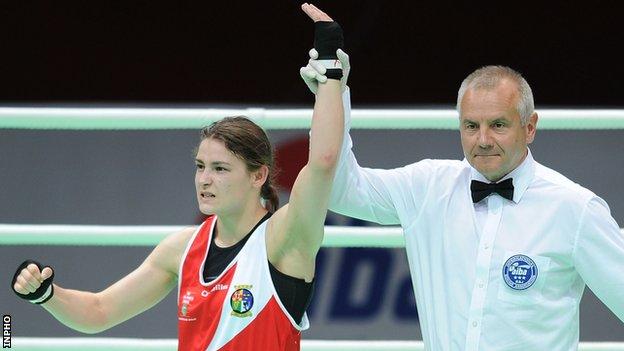 Ireland's Katie Taylor celebrated her Olympic Games qualification by winning her fourth consecutive World Championship title in China.
Taylor, who guaranteed her place in London by qualifying for the semi-finals in China, beat Russia's Sofya Ochigava 11-7 in the lightweight final.
The Bray woman's victory means she will need to win only one bout at the Olympics to be guaranteed a medal.
That is because Taylor will earn a bye through to the Olympic quarter-finals.
Both boxers scored two points each in the first two rounds for a 4-4 scoreline in Qinhuangdao.
Taylor zipped ahead in the third with a 4-2 score and then sealed the win over the former world champion as she won the final round 3-1.
The Irishwoman was also named best boxer of the tournament.