David Haye-Dereck Chisora: Fresh anger at proposed bout
Last updated on .From the section Boxing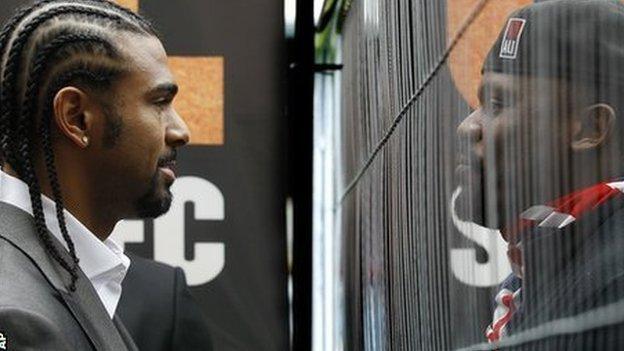 The German Boxing Board (BDB) has joined the British Boxing Board of Control (BBBofC) in opposing the fight between David Haye and Dereck Chisora.
The contest, due to take place at Upton Park on 14 July, has been sanctioned by the Luxembourg Boxing Federation.
BDB president Thomas Putz said: "I was surprised, disappointed, upset and shocked when I heard [about the] fight between Dereck Chisora and David Haye.
"Neither Chisora or Haye hold a valid licence with the BBBofC."
The BDB has written to the European Boxing Union (EBU) and the BBBfoC in support of the board over the proposed clash.
Chisora was suspended indefinitely for his role in a brawl with Haye in Munich but has appealed against that verdict, and Haye has not renewed his licence since his retirement from the sport in October 2011.
The World Boxing Council (WBC) has said they could expel both fighters, while a statement from the British board read: "Anyone who participates will be deemed to have terminated their membership."
Putz has joined his WBC counterpart Jose Sulaiman to urge the EBU to expel the LBF - and for the sport to stand firm in condemning a bout described by heavyweight champion Wladimir Klitschko as a "freak show".
Putz said: "For obvious and good reasons Dereck Chisora has lost his license with the BBBoC, is under suspension from the BDB, and has been suspended indefinitely by the WBC.
"This fact alone justifies Wladimir Klitschko's comment that we should not talk about a boxing fight but about a 'freak show'.
"I have to say that, even though I would choose a different wording, I totally agree with our world heavyweight champion in this point."