David Haye fears Vitali Klitschko fight - Bernd Boente
Last updated on .From the section Boxing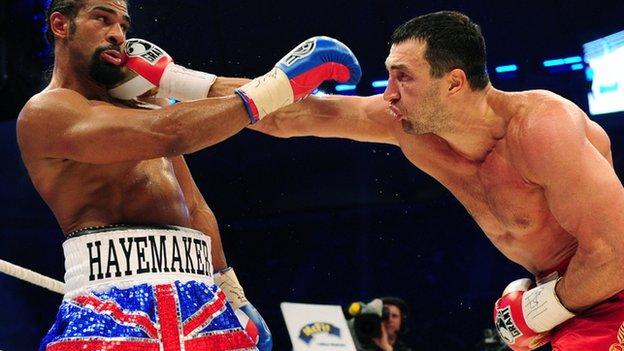 Vitali Klitschko's manager has claimed David Haye turned down a fight with the Ukrainian because he fears him.
"He never really wanted to fight Vitali. The guy is always talking. He barks like a dog and is mostly afraid," said Boente.
However, Haye says a potential fight with Klitschko is one of the main reasons he has returned to the ring.
"It makes absolutely no sense for me to turn down a fight I desperately want," said Haye.
"Remember, the whole idea behind going ahead with this Chisora fight was that a victory may then lead to a fight with Vitali Klitschko. That was my plan, my reason for returning to the ring.
"I want to fight on 14 July and then again in September, and have been telling people this for months now."
Haye stressed that he is "fed up with being used as a smokescreen" for a bigger agenda for the Klitschko camp.
"What is clear to me is that K2 [Klitschko's management] are now happy to protect an ageing Vitali and usher him towards politics as soon as possible," said Haye. "Politics is about popularity, and Vitali's popularity in Ukraine would take a massive hit if he were to get knocked out by me before retiring.
"It's imperative for him to keep winning and beating up puddings en route to retirement, as that sets him up nicely for a career in politics.
"At this advanced stage in his career, the last thing on Vitali's mind are tough challenges in the ring. He's essentially semi-retired, which is fine, so long as he comes clean about it. Don't go stringing everybody along - fighters and fans - when some of us know the truth."
Haye's trainer and manager Adam Booth added: "A few weeks ago I received a first draft contract from K2/KMG, as a formal offer for the fight between David and Vitali.
"Once we'd announced the Chisora fight I left a message for Shelly Finkel, in which I informed him we were ready to move to completion of the agreement for Vitali versus David. However, since that message was sent to Finkel, I have received no reply.
"Today I read that Herr Boente claims David 'turned the fight down' and 'does not want to fight Vitali'. Both of these claims are completely false. If Vitali wants to fight David in September, we are here and happy to accept. If not, no worries or sadness from our side.
"Maybe K2 realised during Vitali's fight with Chisora in February that their precious champion was drastically slowing down and didn't fancy going up against anyone too quick in the future. Whatever their reasoning, if Herr Boente is happy to spin the lines he feeds people, good for him."
After moving up from cruiserweight, Britain's Haye had vowed to end the Klitschkos' domination of the heavyweight division, but last summer he suffered a points defeat at the hands of Vitali's brother, WBA, WBO and IBF champion Wladimir, partly blaming the loss on a broken toe.
Wladimir, 36, will not fight Haye again and Boente, who manages both brothers, says 40-year-old WBC heavyweight champion Vitali plans to retire in October if he realises his long-term ambition of being elected to Ukraine's parliament.
"I don't think it [Haye-Vitali] will happen," he added. "It will definitely not happen in September because we are already talking to a couple of different opponents for then and it is too close for Haye to fight him after his fight against Chisora.
"Wladimir will never fight him again. Why should he? There are no questions left for him to answer and Vitali... if he is elected in October he will quit his career, for sure."