Amir Khan 'has something to prove' against Danny Garcia

Last updated on .From the section Boxing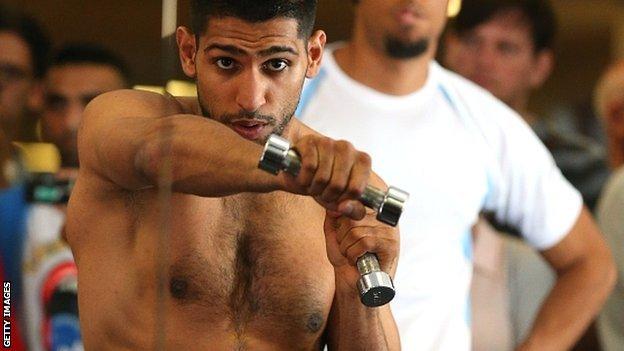 Amir Khan admits he will "still have something to prove" when he fights Danny Garcia for the American's WBC light-welterweight crown on 14 July.
The bout will take place at the Mandalay Bay resort in Las Vegas.
Khan, 25, was meant to have a rematch with Lamont Peterson earlier this month but the fight fell through after Peterson failed a drugs test.
"The truth has come out, but there were a lot of doubts after I didn't get the win [in the first fight]," said Khan.
"Garcia is an unbeaten fighter, he's young, he's fresh, he has big ambitions and he's a world champion. It's going to be a tough fight.
"I never look too far ahead but I have ambitions, to be a world champion and fight Floyd Mayweather.
"But Danny Garcia is ahead of me at the moment and I have to beat him first to get to those big, big names."
Bolton fighter Khan lost his WBA and IBF titles to Peterson in controversial circumstances last December.
A rematch was scheduled for 19 May but after the American tested positive for elevated testosterone levels.
Khan's promoter, Golden Boy, is trying to have the result of the Peterson-Khan fight from December overturned to a no decision and the WBA and IBF belts returned to Khan.
Philadelphian Garcia, 24, is undefeated in 23 professional fights, including 14 knockouts.
He won the WBC title with a points victory over Mexican legend Erik Morales in March, although Morales has now lost seven of his last 12 fights.
Prior to that he beat former world champions Nate Campbell and Kendall Holt, although Campbell, previously a lightweight, was 39 at the time.
As recently as four fights ago Garcia was fighting an opponent with a losing record, while he was lucky to beat former British champion Ashley Theophane in 2010.
"He's been cleverly moved to the top, he's not beaten anyone that seems tricky to beat," said Khan, who will not know if the fight will be for the WBA and IBF titles until Peterson's appeal is heard on 13 June.
"All the guys he's been put in front of, he should have beaten them. That's why he's got a record of 23 fights and 23 wins.
"If he'd fought the guys I'd fought - Lamont Peterson, Marcos Maidana, Zab Judah, Andreas Kotelnik - I don't think he'd beat them.
"I am walking into this fight with a little bit more experience and edge over Danny Garcia. I know for a fact I will beat Danny Garcia, I'm hungry to win that world title again."
Garcia, who compiled a 107-13 record as an amateur, claimed Khan "is not what people say he is".
"I feel like I have what it takes to beat this guy," Garcia told www.espn.com.
"He will leave himself open for some big shots and we'll see if he can take them. I can box and I can punch. I'm going to hit him with stuff he won't see. I can't wait."
Meanwhile, Khan confirmed July's bout would be his last at 140lb and that a rematch with WBA welterweight champion Paulie Malignaggi could be on the cards.
"I'm getting big at this weight, so hopefully I'll clean up the division and then move up to the next weight category and go for new challenges," said Khan, who stopped Malignaggi in 11 rounds in 2010.
"When I stopped Malignaggi, everyone said he was over the hill, that he'd had his best days.
"Two years later Paulie Malignaggi comes back and wins a world title at the weight above, he's back at the top. That could be a future fight."