Carl Froch is prepared to fight dirty against Lucian Bute

Last updated on .From the section Boxing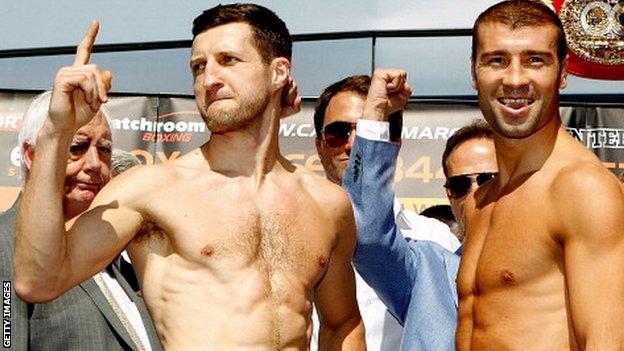 Carl Froch says he is prepared to fight dirty in a bid to become a three-time world champion when he meets Lucian Bute in Nottingham on Saturday.
Froch fights in his home town for the Canadian's IBF super-middleweight belt.
"He'll try to box and keep me at range and counter-punch, like most southpaws do," the 34-year-old told BBC Sport.
"If he's successful for four or five rounds then I'm going to have to rough him up, stick the head in and get the elbows going."
Froch, who weighed in at 11st 13lb 5oz - seven ounces lighter than his opponent - also questioned his rival's chin, with Bute, 32, having been knocked out as an amateur and badly rattled by Librado Andrade in 2008.
"Let's not forget Lucian Bute has been knocked out cold as an amateur and he was saved by the referee against Andrade," said Froch, who defended his own record of two defeats in 30 fights.
"One loss was a very close decision against Mikkel Kessler and the other one was against Andre Ward [in the final of the Super Six tournament in December], who I don't think will be beaten in his whole career," he said.
"I've mixed it with the best in the world for the last three years. It's not really a test for me, he's got it all to prove."
Bute's trainer Stephan Larouche said he believes Froch will struggle against his charge's superior boxing skills.
"Carl is effective at a certain range," said Larouche. "If you stand in that range, he's effective. But anyone with the right ability, they can cope with this.
"A guy like Kessler, who's a straight-up fighter who doesn't move his head and moves straight in and out, he was at the right range for Froch. The same with Jean Pascal [who Froch beat after a brutal battle in 2008].
"But if you bring movement and footwork, it's not the same any more. Andre Ward and Andre Dirrell [who Froch narrowly beat in 2009] understood this. And Lucian is very seldom in the same place twice."
Froch's promoter Eddie Hearn said he had never seen his man this hungry, while adding that Froch could retire whether he wins or loses against Bute.
"He's told me 'I have to win this fight', and that's a different mentality to what he's had before," said Hearn. "He knows the score, a loss here would be a disaster. This is probably his last opportunity to win the world title back.
"Nothing would surprise me with Carl Froch, he may even retire if he beats Lucian Bute because it would be a fantastic time to do something like that.
"And if he was to lose, there's plenty more fights out there for him, but would he want them? It depends how he looks."