Kris Carslaw happy with underdog tag for Brian Rose bout

Last updated on .From the section Boxing
Paisley boxer Kris Carslaw is happy with his underdog tag ahead of his challenge for the British light-middleweight title on Saturday.
Former kickboxer Carslaw, 27, has recovered from a broken jaw sustained in November and feels he is in great shape to surprise champion Brian Rose.
"Being the underdog, there is less pressure on me. It's away from home and that doesn't bother me," he said.
"I am in the best shape of my life and I'm really looking forward to it."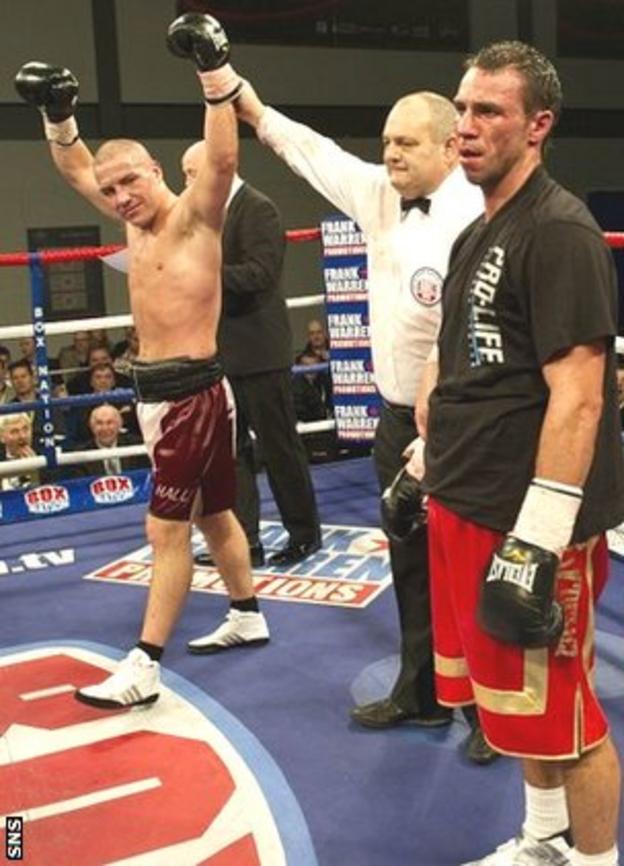 Carslaw had an unblemished record of 15 straight wins prior to his British title eliminator with Matthew Hall at Ravenscraig Sports Centre at the tail end of last year.
However, his jaw was broken in the 10th and final round of that bout and the Englishman won the fight on points.
The Scot's enforced time out of the ring led to a period of reflection on how he could improve.
After beating Kieron Gray in eight rounds in March, Carslaw is raring to go against Blackpool's Rose in Manchester's Bowler's Arena.
"It was my first big fight and I feel experience came into it - he had more experience," said Carslaw of the Hall bout.
"I started off the rounds well but in the middle I got dragged into his fight. It was a war and that suited him better.
"I've learned lessons from that now. I had time off and time to look back at the fight and see what I did wrong.
"I actually took confidence from the fight because he was the former Commonwealth champion and fought for the European title.
"I'm better now than I was then."
Having lost to Hall, Carslaw did not expect to get the chance to fight for the British title so soon. That he now has the opportunity is down to the swift manoeuvring of his manager Tommy Gilmour.
"I knew they were looking for a defence for Brian Rose so I was off the mark and talked Frank Maloney into taking the fight," Gilmour told BBC Scotland.
"So even though Kris lost the eliminator, Matthew Hall lost in the final eliminator to the former champion Sam Webb.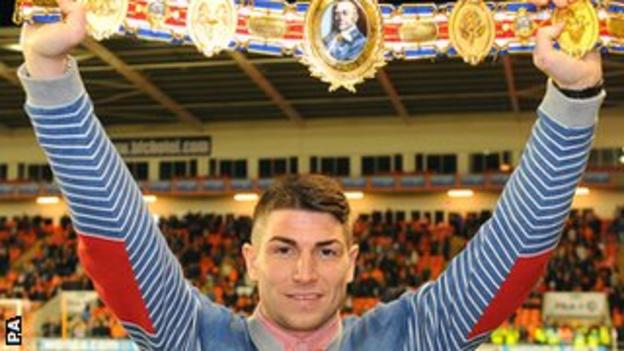 "But we've got the title shot for the voluntary defence so it's a great opportunity for Kris.
"We expected it was going to be at least six to nine months before we'd get him into championship, but when there was a spare TV date going at the beginning of June I was able to capitalise on that."
Gilmour marvels at the training ethos of Carslaw, who has been in the gym for 10 weeks: a bout against a local opponent scheduled for five weeks ago was cancelled.
"He's just a naturally fit boy. He's a credit to him and his trainer," added Gilmour of Carslaw, who switched from kickboxing in his late teens and went on to represent Scotland at the Commonwealth Games in Melbourne.
"I'm sure he will take this opportunity. He'll be the underdog but I think he's got the talent to win it.
"Kris Carslaw boxing at his best can win it but he'll need to be at his best because Rose is a good champion.
"Coming through a broken jaw, he has shown he has the courage and also the self belief and determination that is needed to become a British champion."