Carl Froch plans an 'exciting future' after admitting quit thoughts

By Ben Dirs
BBC Sport at the Capital FM Arena, Nottingham
Last updated on .From the section Boxing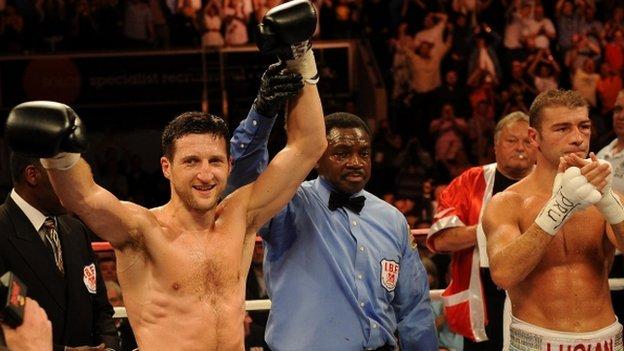 Carl Froch promised there was "a lot more to come" following his devastating defeat of Lucian Bute on Saturday.
Froch delighted his home crowd in Nottingham by stopping the previously unbeaten Canadian in the fifth round to win the IBF super-middleweight crown and become a three-time world champion.
"If I didn't win I may have announced my retirement," said 34-year-old Froch.
"But I'm so far from that after that performance - that was the very best of me. The future's going to be exciting."
Bute, who was undefeated in 30 fights before meeting Froch, has the option of a rematch in Montreal, but the new champion said he doubted the fight would happen.
"I don't think he'll want the rematch - I looked in his eyes after round three and I saw something drain from him," said Froch, who now has 29 wins from 31 fights.
"I don't think he'll ever want to fight anyone again, let alone me. That was the whupping of all whuppings. That was a career-ending performance.
"It was just so clinical and devastating. I felt so strong and fit, like I'd turned back time."
Froch's promoter Eddie Hearn also said an immediate rematch was unlikely and that he would like to see his charge in an easier fight following a phenomenal run of eight successive elite-level matches stretching back to 2008.
"We'd be more than happy to go to Montreal if they want to give us a defence first and they can have a warm-up fight themselves.
"Carl doesn't like easy fights but it would be nice to have something a little bit easier. But he's put himself right back in the mix in the super-middleweight division."
While a rematch with Mikkel Kessler, who was ringside in Nottingham, is a distinct possibility, Froch's ultimate target is a return fight with Andre Ward, who beat him in the final of the Super Six tournament last December.
Froch said: "Mikkel Kessler could be a tasty dust-up in the future, that's a fight I would take in a heartbeat. It would be nice to avenge a defeat, it really would.
"But I think I've fought enough monsters, time after time, to now think about fighting Mikkel Kessler.
"Fighting like that, with the focus I had and the way I felt physically, I'd beat anyone in my weight division, there's nobody who can touch me.
"If you watch the fight against Ward, I was a totally different fighter, I had a bad night, but that kind of performance [against Bute] beats Andre Ward.
"If I catch anyone on the chin like I caught Bute, it's game over, it's as simple as that. I'd beat anybody, including Andre Ward."