Three-weight world champion Johnny Tapia found dead
Last updated on .From the section Boxing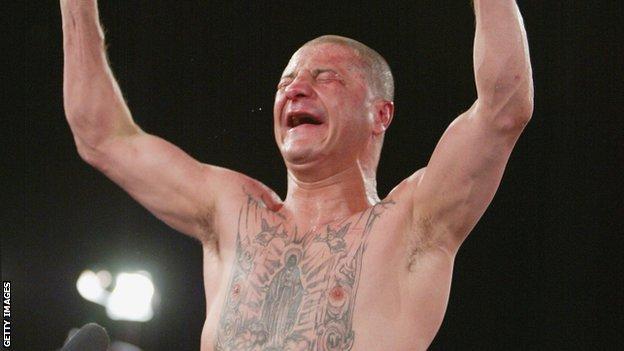 Three-weight world champion Johnny Tapia has died at the age of 45.
Tapia, whose career was marked by cocaine addiction, alcohol, depression and run-ins with the law, was found dead on Sunday in his hometown of Albuquerque, New Mexico.
He won the WBO super-flyweight title in 1994, two belts at bantamweight and the IBF featherweight belt in 2002.
Police spokesman Robert Gibbs said the death "did not appear to be suspicious".
His tragic start in life - both parents were murdered - several stints in jail and numerous rivalries garnered him a cult following in the sport.
Tapia was orphaned at eight when his mother was murdered in brutal circumstances and, despite his successes in the ring, trouble stalked him for the rest of his life.
Having been banned from boxing for three and a half years in the early 1990s because of his cocaine addiction, he beat Henry Martinez to become a world champion for the first time.
Tapia went 11 years unbeaten as a professional before Paulie Ayala defeated him in 1999 in The Ring magazine's Fight of the Year, taking his WBA bantamweight title. Tapia lost a rematch with Ayala in 2000.
In 2002 he beat Manuel Medina to secure the IBF featherweight crown and was good enough to take Mexican great Marco Antonio Barrera the distance later that same year.
In 2007, he was hospitalised after an apparent cocaine overdose. Several days later, his brother-in-law and his nephew were killed in a car accident on their way to Albuquerque to see the ailing boxer.
In his 2006 autobiography, Tapia described how he had been declared clinically dead five times, each time due to a drug overdose. He also survived shootings, a bus crash and a near-drowning.
Tapia last fought in June, outpointing Mauricio Pastrana. He finished with a 59-5-2 record.