Froch achievements 'eclipse' Calzaghe, Eubank and Benn

Last updated on .From the section Boxing230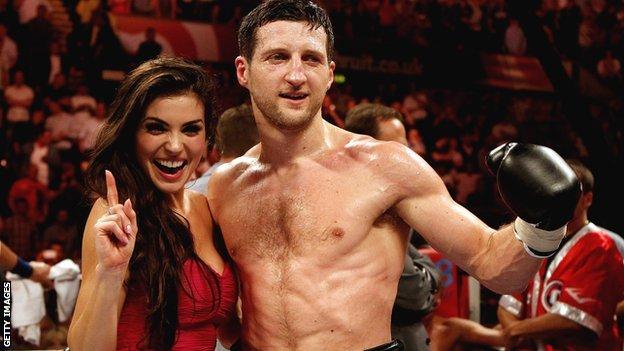 Carl Froch says his achievements now "eclipse" those of fellow British super-middleweight greats Joe Calzaghe, Chris Eubank and Nigel Benn.
"If you're asking me how I compare, I've eclipsed them, gone past them, it's as simple as that," said Froch.
"I've had eight big fights on the spin, all for world titles. You've got to put me up there with the others, at least."
The 1990s were a golden era for the 168lb division in Britain, with Benn, Eubank and Irishman Steve Collins engaging in a classic series of fights.
Calzaghe brought the series to an end with victory over Eubank in 1997 before retiring in 2009, having been undefeated in 46 fights.
And while the 34-year-old Froch was keen to stress he did not necessarily think he was a better fighter than any of the above, he did claim to have the superior record.
"I'm a massive Chris Eubank fan, but if you're going to compare [his opponents] to the level of opposition I've been up against, it doesn't really come close," said Froch, who went on to claim that his win over Bute was superior to Calzaghe's much-trumpeted win over Jeff Lacy in 2006.
Like Bute, Lacy was a much-hyped, unbeaten IBF super-middleweight champion and a bookmakers' favourite to beat a British underdog.
"Not taking anything away from Joe Calzaghe, but Jeff Lacy was massively overrated - Jermain Taylor used Jeff Lacy for a warm-up fight before fighting me [in 2009] and Taylor didn't see the final bell in my fight," said Froch.
"Jeff Lacy couldn't cut it at world level and Joe Calzaghe exposed him for what he was. But Lucian Bute is a great fighter, was unbeaten in 30 fights with 24 knockouts.
"When people look back on my career, I want them to say: 'There's a fighter that fought everybody. Look at his record - yes, he got beat, but he came back to win a third world title. Carl Froch is a Hall-of-Famer, a legend, and we've got so much respect for him'.
"I'll go down in the history books and I'll be remembered forever and ever, unlike other fighters - and I'm not going to mention any names - who have got undefeated records or retire undefeated, and you say to yourself: 'Who did he box? He didn't box him, he swerved him, he boxed him when he was well past his best'.
"The '0' doesn't mean a great deal. In one fight I've gone from being the underdog, finished, on the verge of retirement to the cream of the crop, the main man. But I already knew it."
Meanwhile, Froch confirmed his promoter Eddie Hearn had been instructed by Mikkel Kessler to make contact with the Dane's promoter about a rematch later this year.
Froch said: "Mikkel Kessler [who outpointed Froch in 2010], that's a fight I want to avenge. Me and Kessler could really go at it and give the fans what they want.
"He phoned me on Sunday to congratulate me, I mentioned fighting him and he said 'yes'. He knows it's a big fight, it's going to be financially beneficial and if he won it would put him right up there with the all-time greats.
"Although my mum will be devastated. She keeps saying to me: 'Don't fight Mikkel, he's too much of a nice man, I like him'."
COMPARING THE RECORDS

Nigel Benn

Pro record: 42 (33 KOs)-5-1 World titles: WBO middleweight, WBC super-middleweight

Chris Eubank

Pro record: 45 (23 KOs)-5-2 World titles: WBO middleweight, WBO super-middleweight

Steve Collins

Pro record: 36 (21 KOs)-3 World titles: WBO middleweight, WBO super-middleweight

Joe Calzaghe

Pro record: 46 (32 KOs)-0 World titles: WBC, WBA, IBF & WBO IBF super-middleweight, 'undisputed' light-heavyweight

Carl Froch

Pro record: 29 (21 KOs)-2 World titles: WBC & IBF super-middleweight