Haye-Chisora: Five other bodies interested in licensing fight
By Jimmy Smallwood
BBC Sport
Last updated on .From the section Boxing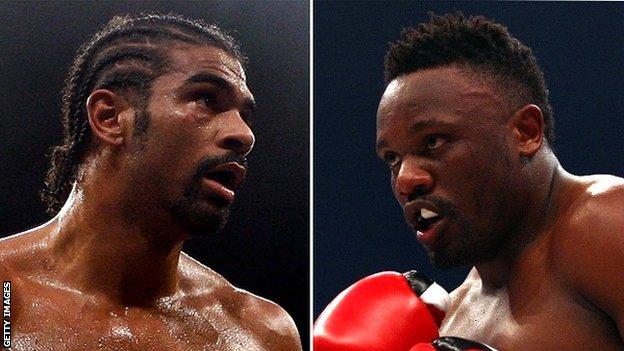 One of the organisers of the David Haye-Dereck Chisora bout says "at least" five other bodies have offered to sanction the event should the Luxembourg Boxing Federation pull out.
The LBF is overseeing the London fight against the wishes of domestic body, the British Boxing Board of Control.
The federation will meet on Tuesday to discuss its role in licensing the bout.
But promoter Bruce Baker told BBC Sport: "There were [other] European federations that approached me."
Baker is chairman of the Professional Boxing Promoters Association as well as representing the LBF in Britain.
Pressure on the LBF increased at the weekend following a European Boxing Union threat to expel the federation should the 14 July event go ahead.
In light of the EBU move and the potential for the LBF to quit the bout, Baker said: "I have been approached by at least five other federations who would love to license and sanction this fight.
"One thing is 100% certain. Subject to both boxers being fit, come 14 July at West Ham there will be a properly regulated and sanctioned show involving Mr Chisora and Mr Haye.
"There is no question, because nobody is doing anything illegal. It will be sanctioned by a governing body."
Neither Haye nor Chisora hold a British boxing licence, with Chisora suspended in February after the duo brawled in Munich.
Frank Warren, who manages Chisora, insists there is nothing illegal about the fight being licensed by the LBF rather than the BBBoC.
Baker said it is possible that Luxembourg could abandon their support of the fight when they meet at 1900 BST on Tuesday.
"I think they probably fear what they perceive to be adverse publicity, which has been exaggerated by the BBBoC," he said.
"I am worried. I'm concerned with the whole thing."
Baker also criticised the EBU's recent actions.
"It is not in the EBU's constitution to reprimand fellow members on how they act with their licensing," he said.
"The BBBoC have acted disgracefully. They've used their dominant role in the market to trying to prevent Luxembourg from acting lawfully in the UK."
However, general secretary of the EBU, Enza Jacoponi, disputed this interpretation.
"It is in our constitution," she told BBC Sport. "We can put this vote on our agenda. Then the members voted.
"The general assembly say that if, on 14 July, the fight is held under the jurisdiction of the Luxembourg Federation, in this case they will be suspended and out of the EBU.
"But until such a date they are still a member."
Asked whether the same sanctions would apply to an alternative European federation stepping in to sanction the fight, Jacoponi refused to comment.