Manny Pacquiao's children 'want Floyd Mayweather fight'

Last updated on .From the section Boxing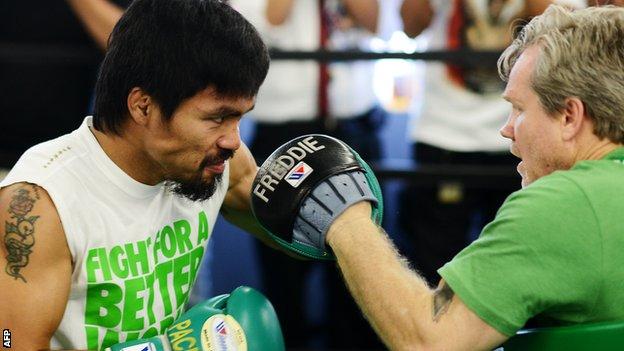 Manny Pacquiao has told BBC Sport that even his children want him to fight Floyd Mayweather before he retires.
Philippine legend Pacquiao defends his WBO welterweight title against Timothy Bradley in Las Vegas on Saturday.
But most boxing fans remain fixated on a possible match between Pacquiao and Mayweather, rated the two best pound-for-pound boxers in the world.
"That's what the fans want to see and even my kids request me to fight him before I retire," said Pacquiao.
Pacquiao versus Mayweather is one of the most anticipated bouts in boxing history, but it is a match that has so far eluded an expectant public.
The pair were set to fight in March 2010 but it was called off after Mayweather's camp demanded Pacquiao took a blood test in the 30 days prior to the fight - a demand Pacquiao's camp refused to meet.
Pacquiao subsequently launched legal proceedings against Mayweather's camp after it was suggested the seven-weight world champion was taking performance-enhancing drugs.
However, Pacquiao, 33, says he still wants to fight Mayweather and insists the American, a world champion at five different weights, is to blame for it not happening before now.
"Absolutely, I'm excited about that fight happening and that's what the fans want to see," said Pacquiao, who has four children by his wife Maria.
"The problem is not on our side, it's on his side. Some other time we will discuss it again and hopefully it will happen."
Mayweather, who is currently serving a 90-day prison sentence for battery, is reportedly against a 50-50 split, while Pacquiao says he deserves half of the spoils.
He said: "Why not? We're the same, it's fair. I don't want to take advantage of him and I don't want someone to take advantage of me.
"That's one reason [the fight has not happened] but there are some other reasons we need to discuss with his team."
Before Pacquiao can contemplate a bout with Mayweather, he must defend his WBO welterweight title against unbeaten Bradley at the MGM Grand.
Some observers feel his controversial victory over Juan Manuel Marquez last November demonstrated he was a fighter on the slide, while his trainer Freddie Roach blamed the performance on distractions away from the ring.
But Pacquiao says he has rediscovered religion and cut out the vices that were threatening to derail him.
He said: "No more gambling and drinking and girls. I have peace of mind, no distractions. Now I always read the Bible and the word of God and I'm more focused on the fight and my family.
"I'm not thinking of the Marquez fight right now, I'm focused on the Bradley fight, making people happy with a satisfying performance on Saturday."
Pacquiao refuses to underestimate the 28-year-old from Cathedral City, California, but thinks he will have too much for his undefeated opponent.
"He's undefeated, he's young, he's hungry and I'd never underestimate him. But I believe I'm faster than him and stronger than him," said Pacquiao.
Bradley has not lost in 28 professional fights and defeated Cuban Joel Casamayor on the undercard to Pacquiao-Marquez in November.
"I'm going to put it all on the line. This is not his biggest fight, it's my biggest fight. It's all or nothing," said Bradley.
"I know that I've got to stay tight, I've got to stay behind a good jab and I've got to keep moving. I've got to have great defence and I've got to counter-punch the hell out of this guy with combinations."