Scott Quigg 'devastated' after title draw with Rendall Munroe
Last updated on .From the section Boxing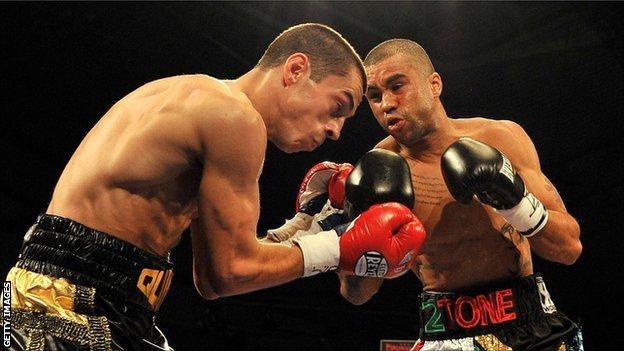 Scott Quigg said he was "devastated" not to have won the WBA interim super-bantamweight title after a clash of heads ended his bout with Rendall Munroe on Saturday.
The fight was declared a technical draw in the third round after Leicester's Munroe suffered a cut above his eye.
Undefeated Quigg told BBC Radio Manchester: "I am devastated that it ended like that because I would have won that fight.
"You can't be upset at the officials."
The Bury fighter added: "Those are the rules of the game. Now I wish I'd never thrown that right hand at that time. I wish I would have just thrown a little jab.
"I'm just gutted because the fight was going to plan. He had no answer for me."
The evening ended in disappointment for supporters of both boxers and for promoter Ricky Hatton, who predicted it would be one of the fights of the year.
A rematch is likely to be arranged for a later date.
Munroe told BBC Radio Leicester he believed he was in charge of the fight and would have been a likely winner.
"I just felt this almighty sharp pain, and the next thing I knew, I couldn't see anything out of my eye, apart from the blood flowing everywhere," said Munroe, who fought Japan's Toshiaki Nishioka for the world title in October 2010.
"I was gutted because I hadn't warmed into the fight and everyone could see I was winning the fight. These things happen.
"I wanted to keep fighting. If I could have stuck it together with a bit of masking tape or something, I would have carried on."