Lightweight Scott Harrison ready to end long absence

By Keir Murray
BBC Sport Scotland
Last updated on .From the section Boxing
Scott Harrison says he is desperate to get into the ring on Friday after an absence of six and a half years.
The former WBO world featherweight champion, now 34, makes his comeback against Hungarian teenager Gyorgy Mizsei Jr at Glasgow's Kelvin Hall.
"I feel good. I feel very focused, fit and ready for the fight on Friday night," he told BBC Scotland.
"I'm sure I'll get a good reception. I fight for the fans and I always put on a good show."
Since making a successful defence of his title against Nedal Hussein in 2005, Harrison has served time in a Spanish jail for assault and has battled alcohol addiction and depression.
Previous planned comebacks have fallen through and indeed Mizsei Jr was a late replacement for original opponent Brahim Bariz.
But Glaswegian Harrison is showing no sign that he will fail to make Thursday's weigh-in or the bout itself.
"I've been out of the ring for over six years, but here I am, just a few days away from it," he said at promoter Alex Morrison's gym in Glasgow's east end.
"It feels like a lifetime, six and half years. I feel better in my 30s than I did in my 20s, but we'll see on Friday night.
"I used to fight at nine stone. Now I am fighting at 9st 9lb. Now I feel stronger."
Harrison has won 25 of his 29 bouts since making his professional debut almost 16 years ago, with two defeats and two draws.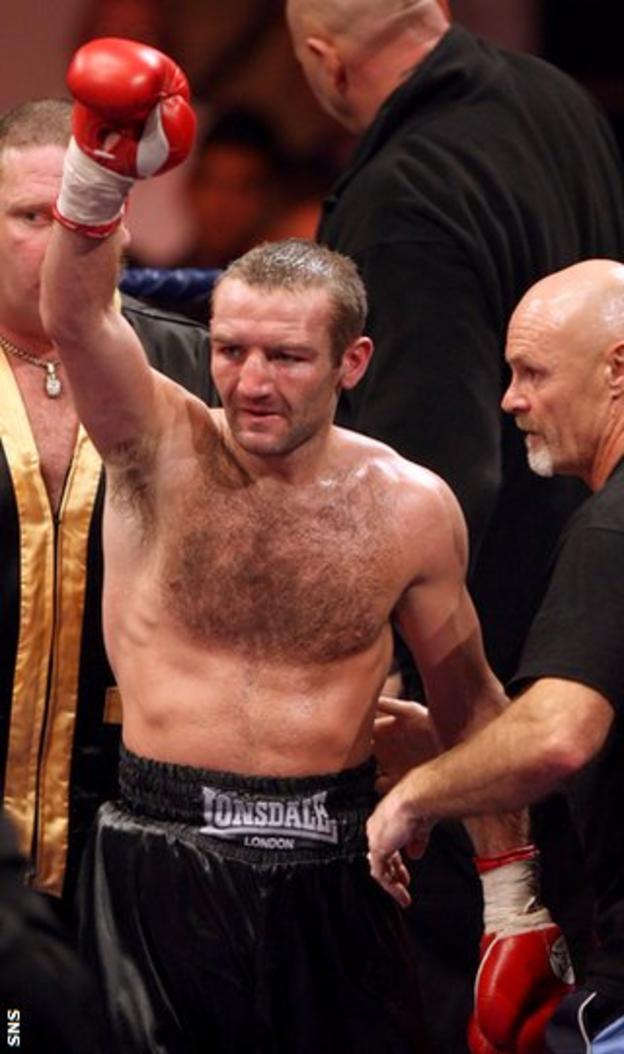 The two men tasked with ridding the boxer of his ring-rustiness are his father, Peter, who is his trainer, and his fitness coach George Fleming, a former weightlifter.
Fleming speaks passionately about the boxer's appetite for work in their six weeks together, describing him as being in "phenomenal" condition.
"It has gone well with George," said Harrison.
"He has put me through my training, it has built me up, I feel good and I am ready."
Fleming said: "We worked at night time going through the routines when he had finished his boxing training.
"He was going to either cave in during the training or just keep going and I was pleased to see he kept going.
"I work with a lot of professional [football] players and he would put them to shame. He is at 100%."
Harrison says his ambition now is to fight for a world title if he can establish himself in the pecking order.
"Hopefully I can get this one out the way, maybe another tune-up," he added.
"Let's see how I feel on Friday night, but in the gym I feel sharp. I'll get this Bariz fight out the road. I'll maybe take one more after that and then I'll be ready for the title shot."
He describes his opponent as "quite awkward", someone "who comes to fight".
"He's had a few fights, so it looks like it's going to be a good fight," added the Scot. "It's going to be a good scrap while it lasts."
Harrison plans to work with his father over the next few days to fine-tune his preparations.
He has had plenty of time to get things right.