Rendall Munroe denies boxing career is under threat
Last updated on .From the section Boxing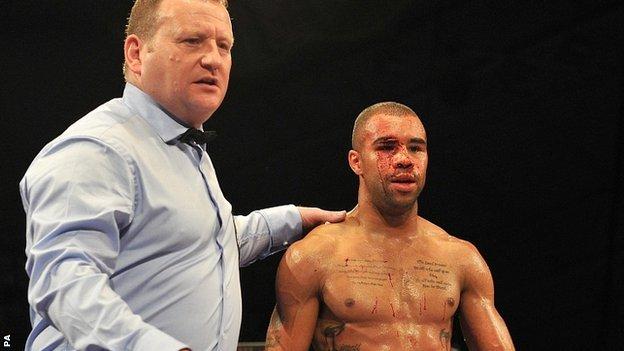 Rendall Munroe has denied he may have to retire because of the cut above the right eye he sustained in the fight against Scott Quigg earlier this month.
The WBA interim super-bantamweight title fight ended as a technical draw after an accidental clash of heads left Munroe needing nine stitches.
"People were hearing I might be out for a long time and it could end my career," he told BBC Radio Leicester.
"It's nothing of the sort. Everything is good. A little cut won't stop me."
The Leicester boxer has no doubts he will soon be back in the ring, despite fears the position of the deep wound was a threat to his future in the sport.
"It's healed really well," Munroe added. "I'm a healthy liver, so recovery comes quick as well. You would never even know unless someone said something.
"I have a little bit of a black eye but that's nothing compared to the damage on the night.
"A big thanks to the doctor who was there straight away to get on the case and stitch it up.
"Everything is healing up quick and fast and hopefully I'll soon be back in the ring finishing what I started."
Munroe was more concerned by the fact all his preparation for the fight with Quigg had been wasted,
"I was gutted all the hard work that went in," Munroe added.
"The weight was good and I was looking strong. Everything looked perfect and I was winning the fight. It's a big disappointment.
"Everyone knows I'm a workaholic, I'm a trainaholic, I love the game and I'm going to be a world champion. I'm living the dream, I'm going for it and I am not going to stop. A little cut will not stop me."