Scott Harrison hungry for more after comeback taster

By Keir Murray
BBC Sport Scotland at Glasgow's Kelvin Hall
Last updated on .From the section Boxing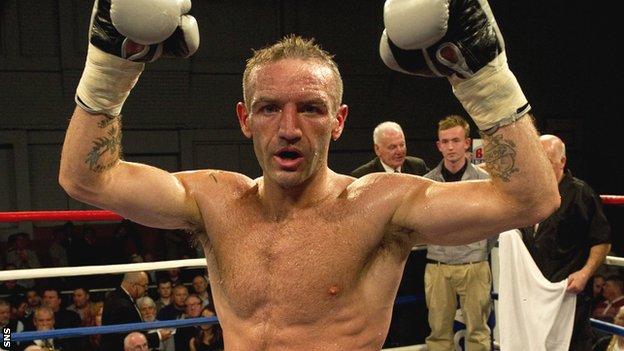 At the end of the fight, there was an almighty embrace between father and son.
For Scott Harrison and his dad and trainer, Peter, the moment must have seemed a very distant prospect during the errant Glaswegian's descent into a slurry of problems with alcohol, the boxing authorities and with Scottish and Spanish police.
But his return to the ring, after a six-and-a-half year absence, produced everything he could have hoped for: purpose, focus, respect, victory, money.
Harrison's last bout, at the tail end of 2005, was a successful defence of his WBO featherweight title against Nedal Hussein.
Friday evening's contest was a more modest affair - a bout against Hungarian teenager Gyorgy Mizsei Jnr for the vacant international masters lightweight belt.
Yet, in many respects, the standard of opponent and the kudos attached to the strap on offer were not too significant.
Instead, what mattered was Harrison showing he could buckle down to a brutal regime of training with his dad and conditioning coach George Fleming, make the 9st 9lb limit - and turn up.
Once his lanky 18-year-old opponent had made his way into the ring, a moment of dread filled one's guts after Harrison's name was announced.
The fans, about 1,200 of them, scanned the hall like meerkats trying to catch a glimpse of the returning fighter. But there was no sign of him.
Eventually, a steely-eyed Harrison, in hooded black gown - of course - made his entrance and the first chapter of one of Scottish sport's more improbable comebacks began.
Mizsei had been drafted in during the week to replace the Frenchman, Brahim Bariz, who had withdrawn from the fight.
The Hungarian brought a record of seven wins from his contests in his home country and Slovakia.
However, it became evident, almost as soon as they disrobed, that Mizsei had not brought much in the way of muscle to Glasgow.
Harrison's toned torso has the shape of an angered cobra's head, while the pencil-thin visitor seemed to be having trouble keeping his shorts up as the fight commenced.
The Scot was caught once in the opening round, a punch to the nose through his gloves, but he finished with a flurry, going hard at Mizsei's body.
A three-count rule would have prevented the youngster from taking more of the punishment meted out to him by Harrison in the second round.
Three times the little Glasgow slugger let fly with a left hook into Mizsei's ribs and the gutsy teenager went down gasping on as many occasions.
The young pro did well to get through Harrison's guard in the third but was sent reeling in the following round by a big right hand that was followed up by four hefty right hooks.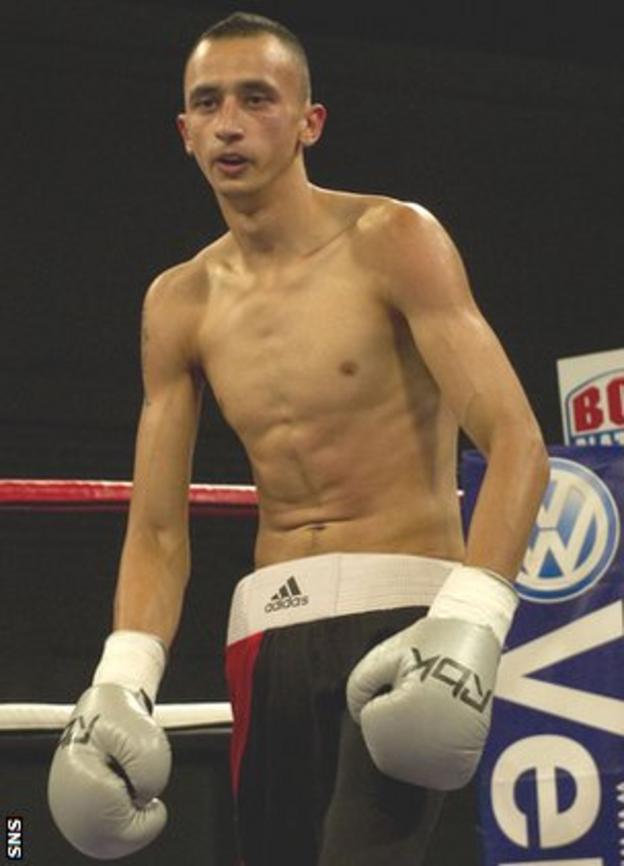 Mercifully, the referee stopped the bout and Harrison celebrated with his father and leapt on to the ropes to show his supporters he was back in business.
The press pack squeezed into his changing-room afterwards to hear him speak maturely about his future.
"I'm glad to be back. It was a privilege to fight in front of the fans. I want to thank them for coming out and supporting me," he said.
"I don't live in the past, I'm looking to the future, and hopefully in the near future I can get the world title back."
Harrison paid tribute to his training camp and revealed that having to make the nine stone limit, before his career went into free fall, left him with muscle cramps during the bouts.
"According to the papers, I'm at death's door, I'm going to die early; but throughout my suspension I've always kept myself in condition," he continued.
"In the past, I trained to lose weight. This time I trained to build muscle.
"As the fight went on, I felt I was punching harder. My body shots were strong. I've been working on that left hook for the past three or four months.
"The key is staying healthy, getting fitter. I'm 34 going on 35, but I certainly don't feel it."
Harrison's promoter, Alex Morrison, deserves praise for sticking by him and he will now be tasked with keeping his fighter busy on his journey back to the summit.
His 31st professional contest could be on the undercard of WBO world lightweight champion Ricky Burns's fight against Kevin Mitchell on 22 September in Glasgow.
That would keep Harrison focused and provide him with another pay day.
It is not impossible that he could fight the winner of that headline bout, a more appealing prospect to Harrison, surely, than to his fellow Scot or Mitchell.
"I just couldn't wait to get in there after the places I've been," Harrison added.
"To get back in there doing your job again, fighting in front of the fans and making money for your family, it's brilliant.
"I want to box and make money. I've wasted a lot, but you live and learn. I'm looking forward to this last chapter in my career."