Scott Harrison eyes title after winning return to boxing
Last updated on .From the section Boxing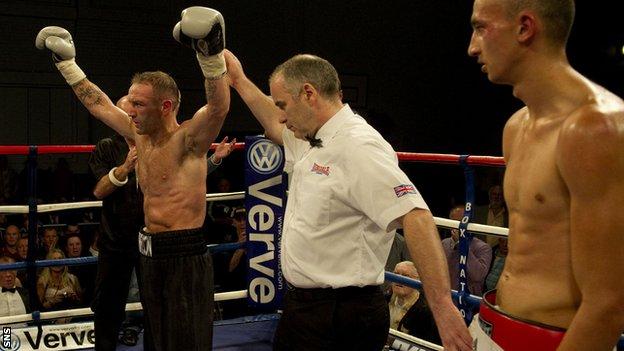 Scott Harrison has targeted another world title after enjoying a winning return to the ring by stopping Hungarian teenager Gyorgy Mizsei Jr.
The 34-year-old former WBO featherweight champion, now a lightweight, won in the fourth round.
It ended a six-and-a-half year absence after years of personal problems, including a spell in a Spanish prison.
"Hopefully I'll get a chance for a world title in the near future," the Scot said after the fight in Glasgow.
"It was a privilege to be out there in front of the fans.
"I want to thank them for coming out to support me.
"Throughout my suspension, I have always kept myself in shape no matter what you read in the papers about me being at death's door.
"In the past, I was training to lose weight, but now I'm improving my fitness and strength.
"As the fight went on, I was punching harder."
Harrison showed at the Kelvin Hall that he still had the punching power that led to numerous world title defences in his heyday.
He put the previously unbeaten opponent down four times before the referee stopped the International Masters lightweight contest amid concern over a blow to the head.
It was Harrison's first appearance since a successful defence of his WBO featherweight title against Nedal Hussein in 2005.
Harrison relinquished his belt in 2006 after failing to make the weight for a defence and checked into the Priory Clinic in Glasgow to treat problems with alcohol and depression.
The Cambuslang boxer lost his licence and continued to struggle with personal problems and served two-and-a-half years in a Spanish prison after being found guilty in 2009 of assault and attempted theft of a car in Malaga three years earlier.
Mizsei Jr, who had been been a late replacement for Frenchman Brahim Bariz, had won his seven professional fights but was put down three times in the second round at the Kelvin Hall.
A succession of right hooks forced the stoppage midway through the fourth.