Barry McGuigan sees world title potential in Lee Haskins
Last updated on .From the section Boxing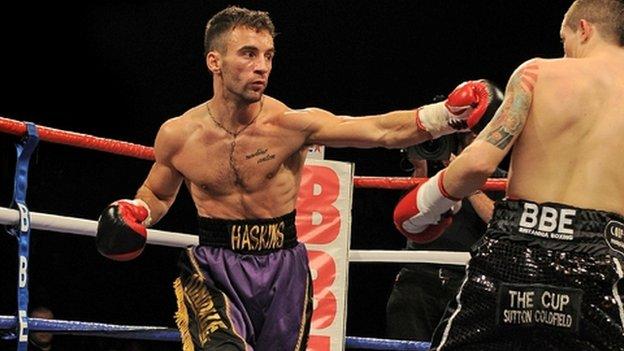 Former World Champion Barry McGuigan says Lee Haskins has the potential to fight for a world title.
The Bristolian takes on Stuart Hall on Saturday for the vacant European Bantamweight title, as part of a ten fight card alongside Tyson Fury and Chris Eubank Jr in Somerset.
And Haskins wants to use the meeting as a stepping stone to the world stage.
"He's going to go on to bigger and better things - a world title fight," McGuigan told BBC Radio Bristol.
The former featherweight champion added: "He's got a bit of Naseem Hamed about him. He can bang and he's tremendously powerful for a small man.
"Stuart Hall is getting on a bit and is a little pedestrian at the best of times, and is one-dimensional. I would pick Haskins strongly in that one."
Saturday's contest in Clevedon is the first time Haskins has fought in the west country since 2007.
A former English and Commonwealth flyweight champion and the reigning British super flyweight champion, Haskins has been desperate to move on to the world stage, but his promoters have found it hard to secure suitable bouts.
But McGuigan warned that Haskins will face a tough battle to move up the rankings.
"On the world scene, they're all red hot - they're all top kids," he said.
"You can talk about potentially winning European and British championships, but winning a world title is that much more difficult.
"Haskins has great power but he needs more consistency, in that he needs to be busier. Has he got the potential to fight for a world title? Yes. Has he got the chance to win it? I'm not sure.
"He's talented and he's very close to being world class. I think if he gets a weak champion then he can win."