Wladimir Klitschko predicts Tyson Fury title fight within a year
Last updated on .From the section Boxing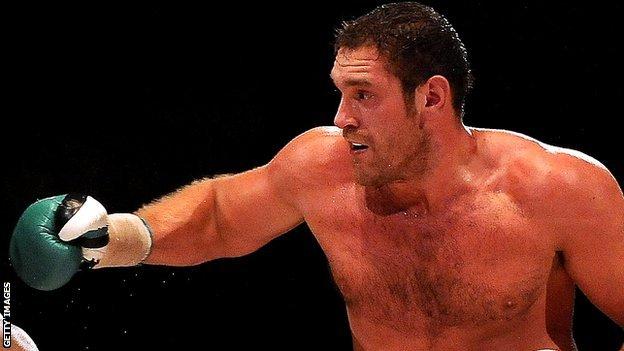 Wladimir Klitschko says he expects to face new WBO Inter-Continental champion Tyson Fury "in the next year."
The 36-year-old Klitschko now predicts a heavyweight world championship bout with Fury within the next 12 months.
"I think we could end up fighting very soon. Probably in the next year."
Klitschko extended his winning run to eight years in Switzerland on Saturday. Manchester-based Fury, who is ranked sixth in the world, is seen by many an upcoming rival, and the Ukrainian champion acknowledged his qualities.
"From fight to fight he's just going to get better," Klitschko told Channel 5. "I doubt [a fight] is going to happen this year, but probably next."
For his part, Fury predicted success if and when he faces a Klitschko brother for a world title shot.
"I think I can win," he said. "Wladimir Klitschko hasn't fought anyone like me. I bring ambition, youth, power and determination. There's never been anyone like me. I am unique."